Contributing Is a "No-Brainer"
December 22, 2014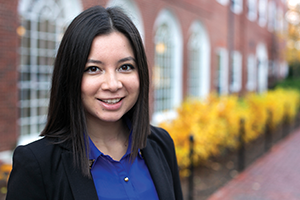 Lucerito Ortiz '10, MEd '14 applied to Harvard on a dare from friends, and that dare forever changed the trajectory of her life. Her family couldn't afford tuition, but Ortiz enrolled thanks to Harvard's extraordinary financial aid program. She spent the next four years forming deep bonds with friends and mentors, exploring the world, building self-confidence, and pursuing her interest in education. She lived in Eliot House and concentrated in social studies, with a secondary in psychology.
Now Ortiz helps transform the lives of today's exceptional students as a senior admissions officer for the College. "To have the opportunity to offer the Harvard experience to them is an immense privilege," says Ortiz, 26, co-director of the Undergraduate Minority Recruitment Program and the Tour Guide program. She's also a resident tutor in Pforzheimer House, where she shares guidance around education, race relations, public service, and first-generation issues. "I continue to be eternally grateful for everything that Harvard has done for me—and that Harvard now allows me to do for others."
Recently Ortiz made her first alumna gift to the Harvard College Fund as a way to give back and to support the financial aid program that puts a Harvard education within reach of every outstanding student. Ortiz realized that sustaining the program requires consistent work and engagement, "So, why am I not contributing? It seemed like a no-brainer. I know that whatever I give makes a difference. And I think that is what's most important."
As seen in HARVARD MAGAZINE
---
Choose Harvard today with a gift to the Harvard College Fund.