A Common Bond Unites All at Harvard Women's Weekend
Harvard Women's Weekend volunteers share how they got involved with planning this special event and more
January 12, 2017
For every participant at Harvard's first University-wide Women's Weekend, there were an equal number of reasons for attending. More than 400 Harvard and Radcliffe alumnae were treated to three days of stimulating programs and activities on topics such as health, entrepreneurship, business, and more. Whether they came for professional enrichment, personal affirmation, or to reconnect with old friends, the weekend's programming exceeded expectations. Attendees left inspired, connected, and—perhaps most importantly—eager to continue the conversation.
The event was a success thanks to the coordinated effort of volunteers representing a wide range of Harvard alumni Shared Interest Groups (SIGs): the Alumnae & Friends of Radcliffe College, the Alumnae/i Network for Harvard Women, the Harvard Black Alumni Society, the Harvard Asian American Alumni Alliance, Harvard Alumni for Global Women's Empowerment, the Harvard Latino Alumni Alliance, and Harvard Women in Defense, Diplomacy, and Development. Several volunteers from the Women's Weekend advisory group shared their thoughts and experiences from the event, and what it meant to be a part of this momentous occasion for Harvard women.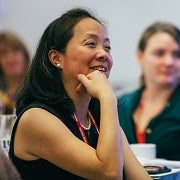 Julie Yao Cooper AB '85, MBA '91
SIGs: Harvard Asian American Alumni Alliance (HAAAA), Radcliffe Choral Society
What was wonderful for me and for our SIG was not just creating a women of color initiative, but working with the Harvard Alumni Association (HAA) and sharing their enthusiasm. Our previous women of color gathering in New York City last summer helped us understand what a larger Women's Weekend could be like. Women's Weekend was all about breaking down silos and coming together to do something beneficial for Harvard women. We received a lot of great feedback after our session—which was focused on women of color—about how we can keep the momentum going. One of things I'm thinking a lot about in the afterglow of the event: how to capture and crystallize the energy to make change in the University and impact the alumni community as a whole. Learn more about HAAAA and the Radcliffe Choral Society.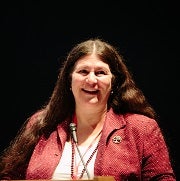 Raine Figueroa AB '84, MBA '91
SIG: Alumnae and Friends of Radcliffe College
Shortly after graduation, I joined the Radcliffe College Alumnae Association's (RCAA) Boston Recent Graduates Committee. I gained so much from this intergenerational community of women including leadership training, intellectual stimulation, life and career advice, and friendships. I have experienced the same through the HAA, but I don't think that women overall are as engaged in the same way. I feel that the Alumnae and Friends of Radcliffe College SIG functions as both an anchor and bridge to welcome all Radcliffe College alumnae into the HAA and to honor the legacy of Radcliffe College. Being a part of Women's Weekend afforded me (and the Radcliffe group) the chance to engage with women and the University in a profound way that will create lasting connections among alumnae and between alumnae and Harvard. My hope is that this weekend is just the beginning of a pattern of renewed connections and dialogue that will grow exponentially going forward. Learn more about the Alumnae and Friends of Radcliffe College.
Jinhee Kim AB '85
SIG: Harvard Asian American Alumni Alliance (HAAAA)
Our involvement really started several years ago, when the Harvard Asian American Alumni Alliance (HAAAA) organized our first conference for Asian alumni. It was such an inspiring gathering in the way that it brought everyone together, yet I lamented my lack of contact and involvement with other minority women or alumni. Around the same time that we were exploring a women of color weekend we reached out to the HAA, who was in the early stages of planning Women's Weekend. They brought us in as advisors, and I saw this model as the perfect way to help on a larger scale. It was wonderful seeing how inclusive the weekend was, and how welcoming of all women. I am hoping others took out of it what I did, making connections and validating the community of women at Harvard. Learn more about the HAAAA.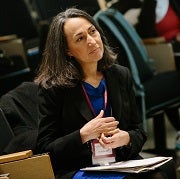 Julie Palmer AB '84
SIG: Harvard Alumni for Global Women's Empowerment
The mission of Harvard GlobalWE is women's empowerment through education, dialogue, and connection among individuals working for women's rights and freedoms worldwide. We became involved in Women's Weekend because it offered a great platform for engaging in all of the aspects of our mission in many different ways: we sponsored an expo where alumni and students could connect with women's empowerment organizations; we hosted an educational session focusing on girls' education in Afghanistan; Board members from our group participated in the morning Global Landscape panel; and several members of our SIG attended Women's Weekend as participants, giving us a chance to connect in person. It was a pleasure to be in the same room for the first time with dear friends with whom I've been working for years, and to meet others who share GlobalWE's mission. We came away feeling energized and encouraged, and we connected with so many enthusiastic members of GlobalWE both old and new. Learn more about Harvard GlobalWE.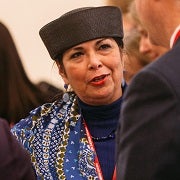 Debbie Reed MBA '82
SIG: Harvard Latino Alumni Alliance (HLAA)
When my son was accepted to Harvard College in 2014 my first instinct was to reconnect with the Harvard Latino alumni community. I was very surprised to find there was no active, organized, and official Latino alumni association. I helped launch the Harvard Latino Alumni Alliance (HLAA) because our Latino students, both graduate and undergraduate, need and deserve the support of the Harvard Latin alumni community while in school and when they graduate. It was important to me personally that Latina faces and voices were represented and visible at Women's Weekend, and it was the perfect venue for Latina alumnae from across the schools to meet up and to reconnect with Harvard. I spent the entire weekend making new friends! It was nonstop talking, fun, and learning from brilliant, empowering women of all ages, color, and professions. There's no doubt we women of Harvard should be spending more time together. When I was a business school student there was little time to socialize. SIGs make it easy and fun to reconnect with fellow alumnae with similar interests and goals. Learn more about the Harvard Latino Alumni Alliance.
Gena Stern AB '09, MBA '13
SIGs: Harvard-Radcliffe Collegium Musicum, Harvard Undergraduate Women in Business (HUWIB)
Joining both the Harvard-Radcliffe Collegium Musicum and HUWIB after graduation was about staying in touch with the exciting things that were happening on campus and trying to give back to the extent that I had gained experience as a student. The mentorship of women who happen to be Harvard alumnae has been invaluable to me. In every stage of my life, I have benefited immensely from women at the same stage or those who have been through the same experiences before. It's a wonderful feeling of community and you couldn't ask for more impressive personalities and partners. Everyone benefited from the multidisciplinary views and diverse perspectives in the room that were inherent in the topics that were on the Women's Weekend agenda. There are so many thoughtful women who can weigh in on issues not only in this country but also globally. Learn more about the Harvard-Radcliffe Collegium Musicum and HUWIB.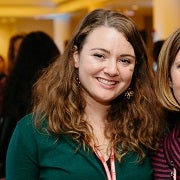 Courtney Walsh MPP '13
SIG: Harvard Women in Defense, Diplomacy, and Development Alumni Network (W3D)
It was important for W3D to participate in the weekend as a way of making our fellow alumnae in these fields aware of us as a network and a trusted platform for critical dialogue about challenges and opportunities for collaboration. W3D is all about building community—we recently pared down our programming to focus on community-building and honing leadership skills for our members. There are so many rock star alumni, and we need more formalized platforms to have deep dialogue on our personal struggles and triumphs as well as the world's. Learn more about W3D.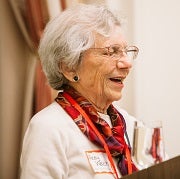 Acey Welch AB '53
SIG: Alumnae/i Network for Harvard Women
I have spent many years seeking greater equality for women on campus first through my involvement with the Committee on Equality for Women at Harvard and later as a co-founder of the Alumnae/i Network for Harvard Women (ANHW). This group formed in 2014 and began working with the HAA and other alumnae leaders on ways to strengthen the community of Harvard women, and out of that came the idea for a Women's Weekend. This event was many years in the making, and it turned out to be a wonderful showcase for women's SIGs. Seeing such a large group of women together in one room was a personal highlight. ANHW added about 100 members but there is still a long way to go. I am hopeful that the women who attended will be energized to go back to their groups, to continue spreading the word, and to build an even stronger community. Learn more about the Alumnae/i Network for Harvard Women.
---
Shared Interest Groups, or SIGs, are alumni-led and originated groups formed around shared interests and identities and recognized by the Harvard Alumni Association. They utilize programmatic, community service, networking, and educational opportunities to help develop and strengthen ties with the alumni community. To learn more about Harvard's more than 50 Shared Interest Groups, visit the HAA SIG Directory.