A Collective Act of Giving
December 22, 2014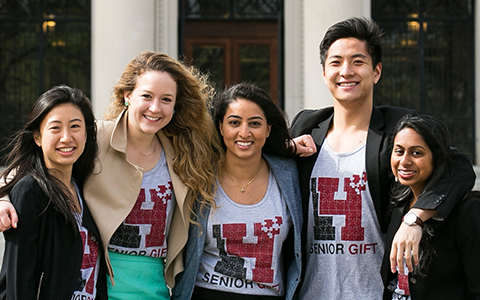 They chatted over meals, hosted study breaks, and even handed out candy in exchange for a conversation. Members of the Class of 2014 Senior Gift committee found creative ways to encourage classmates to make their first gift to Harvard.
Their dedication paid off with 78 percent participation, a record number of leadership-level gifts, and an impressive $56,000 total.
Leading a team of over 150 volunteers offered co-chairs Arleen Chien, Preetha Hebbar, Terah Lyons, Kavya Shankar, and Joshua Zhang a chance to continue the pay-it-forward tradition of senior classes. Hebbar, a history and science concentrator who lived in Cabot House, explains, "As I went through Harvard, I realized that it was a transformative experience. I was inspired to become involved with Senior Gift because I wanted to hear other people's stories."
Through the intense seven-month process, the leaders became extremely close. "It was totally consuming, but we knew it was worth it," says Lyons, who lived in Eliot House and concentrated in social studies.
Zhang, an economics concentrator who lived in Leverett House, sees giving as a great way to stay connected: "I told everyone that Senior Gift was just the beginning of a lifelong relationship with Harvard."
As seen in HARVARD MAGAZINE
---
Choose Harvard today with a gift to the Harvard College Fund.