Clear and Compelling Communication
Stephen Blyth PhD '92 helps graduate students share their work
October 10, 2014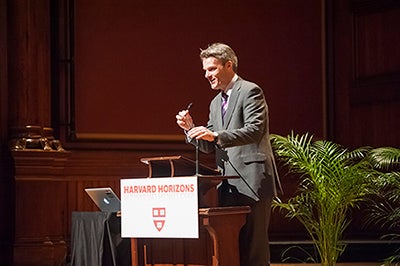 For Stephen Blyth PhD '92, successful graduate work is not measured by how few people understand it. "It is so important to be able to communicate one's ideas in a clear and compelling way," says Blyth, a professor of the practice in statistics and managing director and head of public markets at Harvard Management Company (HMC). "You need to be able to distill key features of your research to a broader audience."
This is why he is happy to be able to support Harvard Horizons through a gift to a dean's innovation fund for the Graduate School of Arts and Sciences (GSAS) and witness, for the second year in a row, eight young scholars present their doctoral research in compelling, five-minute presentations.
Blyth is pleased to see how the experience fostered camaraderie among the participants. Memories of his own graduate community are one of the reasons he gives today. While a student of statistics, he became friends with fellow classmate Xiao-Li Meng PhD '90, and collaborated with him on a research article. "I like to point out that it is my most cited paper and now, as prolific as Xiao-Li is, one of his least cited papers," he says.
While at Harvard, Blyth served as a resident tutor in Winthrop House, playing on intramural teams and relishing the intellectual energy he found in both his peers and the undergraduates in the House. After graduating, Blyth went on to a career in finance, serving as a managing director for Morgan Stanley and Deutsche Bank. When he returned to Harvard in 2006 to take a senior role at HMC, he was in touch with Meng, who asked him to join the faculty of the Department of Statistics.
Blyth signed on to teach classes in applied quantitative finance, having admired Meng's approach to graduate education in the department. "He really stresses the importance of teaching complex and subtle concepts in accessible ways," Blyth says.
When Meng became dean of the Graduate School of Arts and Sciences, Blyth wanted to find a way to support his vision. "I like being able to give back in a meaningful way," he says.
"I can see Harvard from many different angles—I've been student, staff, and faculty here," says Blyth. "It only reinforces that Harvard is a great institution to support and I have the privilege of seeing the impact in the classroom."
---
Choose Harvard today with a gift to the Graduate School Fund.
This story first appeared in Colloquy, the alumni magazine for the Graduate School of Arts and Sciences.