Beyond the Laboratory
Edlyn V. Levine '16
November 16, 2016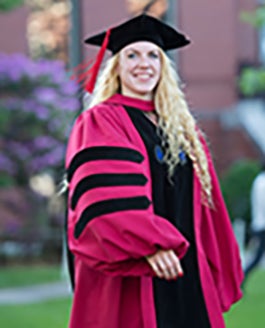 Harvard is where Edlyn Levine '16 discovered how to probe the physical limits of liquid water through superheating. She worked long hours studying what would happen when water is boiled inside the confined space of a nanopore, a nanoscale-sized hole. At extreme temperatures, water will ultimately vaporize explosively. Using the nanopore to superheat and boil water could translate into applications that advance new applications in chemistry, microfluidics, and electronics.
"To see something so ordinary and common as water and show how you can manipulate it at its physical extremes—it's really exciting," says Levine, who earned her PhD in applied physics in May. Her research could have easily been all encompassing. But knowing that her work would be stronger if she took breaks from it, Levine looked for opportunities to bond outside her department.
"Graduate student life can be isolating. You are becoming an expert in something with a select group of scholars," says Levine. "It's incredibly important to bring people together from different areas of study and capacity, people you might not meet in the library or the lab, sitting alone."
This wider community was what led Levine to pursue a PhD at the Harvard Graduate School of Arts and Sciences.
"When you look at GSAS, you see exceptional researchers and scholars across the board, across all fields. It's such a draw to be a part of it."
To foster these connections, Levine served as an outings fellow and later as the coordinating fellow for Dudley House, a center for intellectual, social, and recreational activities for GSAS students that is now celebrating its 25th year. She took time away from her work to organize hikes, outings to baseball games and the ballet, and a cross-country skiing adventure.
"It's very healthy to have a life outside of your research," she says. "Graduate students can be highly motivated workaholics. If I hadn't scheduled time away from the lab, I would have spent all of my time there. It's a diversion from my research and allowed me to reset and be more productive when I returned to it."
The relationships that she built outside of the lab only helped to broaden her horizon, whether networking with the Science Policy Group, a pre-professional student organization, or preparing to celebrate student accomplishments as Commencement marshal.
She'll keep her associations with Harvard going strong by working as a research associate for the Department of Physics when she moves on this fall to take a position as a senior systems engineer at MITRE, a not-for-profit that provides systems engineering and research for national defense.
For Levine, fostering strong Harvard connections has a much wider impact and enhances the achievements of its students and scholars.
"When you support this global community, you are helping to provide opportunities that help students push the frontiers of what we do in physics, sciences, humanities, and the social sciences, and create new paradigms in knowledge," she says.