A Better Robotic Hand
April 8, 2014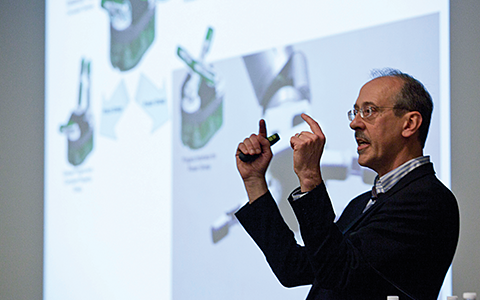 Picking up a coffee cup. Turning a key. Grabbing a T-shirt. Most of us take these activities for granted. But for decades, robots lacked the dexterity to master these tasks, despite scientists' efforts to develop a human-like robotic hand.
That is, until a team co-led by Robert D. Howe, Abbott and James Lawrence Professor of Engineering, took a different approach. With colleagues at Yale University and robotics company iRobot, they designed a simpler, three-fingered hand with flexible joints and mechanical intelligence that allow it to grip objects of varying sizes and shapes. "Instead of using complicated sensing and control, we let the fingers do the adapting," explains Howe, who leads Harvard's BioRobotics Laboratory.
The breakthrough i-HY Hand has potential for helping elderly people maintain independence, enhancing remote medical consultations, and fulfilling e-commerce orders. "A disabled individual could say to a robot with hands, 'Go to the kitchen and put my dinner in the microwave,' " Howe says. "Robotic hands are the real frontier, and that's where we've been pushing." This technology has already spawned one start-up by Howe's students (TakkTile), with another in the works.
Howe collaborates with colleagues to design flexible, resilient robots—inspired by squid, starfish, and other creatures—that can safely interact with humans. His team is developing a catheter that would enable surgeons to operate inside a beating heart without opening the patient's chest to stop it. He is also working with Conor J. Walsh, assistant professor of mechanical and biomedical engineering, on a lightweight robotic glove for hand rehabilitation.
Howe joined Harvard in 1990, well before SEAS became a School in 2007 and began to surge in enrollments and concentrators. These fields are not only for theoreticians, he says. "They're also for people who want to build things and make change happen."
Related:
Back to:
As seen in HARVARD MAGAZINE
---
Choose Harvard today with a gift to the Harvard College Fund.