Belonging at Harvard
William Oh '18
January 26, 2017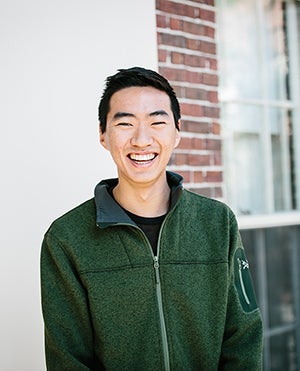 William Oh '18 didn't think Harvard was for him. Not only did he think he wasn't "special" enough, but even if he were accepted, he didn't think his parents could afford it.
He applied anyway, joking with his family that he would frame the rejection email.
They were all stunned when he got in—and then worried. That is, until they received letter offering a financial aid package.
"My family found out that it was cheaper to go to Harvard than my state school, which had even offered me a scholarship," says Oh, who is from Santa Clarita, California. For 90 percent of American families, a Harvard education can cost the same or less than a state school.
"Harvard was my top choice, but financial aid made it a reality," says Oh.
Today, Oh is a concentrator in social anthropology with a secondary in ethnicity, migration, and rights. He is a Mellon Mays Undergraduate Fellow, serves as a peer counselor, and recently traveled to South Africa to study colonialism and modernity. He is intrigued with the idea of pursuing a career in academia, especially in the study of space, diaspora, citizenship, and performance. "I hope to contribute to a tradition of knowledge production that helps change the world for the better," says Oh.
He's thrived outside the classroom as well. "House life has been incredible," says Oh, who lives in Currier. "It's been the setting for some of my deepest and closest conversations with friends. To be so far away from home, I am very grateful for the community that I've found there."
These days, Oh knows he was meant to be at the College.
"Not only is a place like Harvard is possible and affordable, but I'm supposed to be here," he says.
"I was in a classroom, conversing with some of the smartest people I know, participating, contributing. I have been able to tackle some of the most difficult topics I've ever encountered and I'm loving it. And it just hit me: I belong here."