The Art of Giving: Nancy Rae Parker
Accomplished painter Nancy Rae Parker believes in advocating for disadvantaged students and demonstrates it through an eponymous undergraduate scholarship fund.
June 13, 2017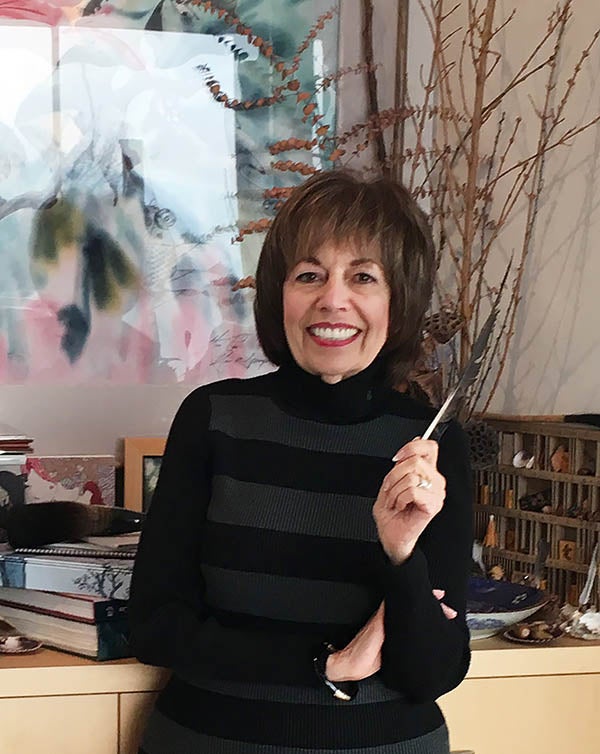 From heart to arm...to hand...to brush...to paper.
This Chinese saying epitomizes the artistic style of internationally renowned painter Nancy Rae Parker, whose work in Chinese brush painting—or literati— combines an impressionist approach to color with a spontaneous expressiveness. In this style, the artist prepares no sketches and uses no models, painting with rapid, intuitive movements of the brush that convey a "mind image" of the subject.
"Because you don't sketch it beforehand, it's like being on a high wire without a safety net—you just go for it," says Parker, known professionally as Nan Rae. "It's the ch'i, or the life force, of the individual artist, and not about doing a botanically correct painting." This spirit of spontaneity is also what led to her philanthropic support of Harvard.
"About 10 years ago, I read a moving article in the New York Times about a young woman from a third world country who desperately wanted to go to Harvard but had no way of getting there. There was something about her ability to put herself out there that moved me," Parker recalls of the moment that spurred her first gift. "But what impacted me more than her story was a beautiful letter she wrote me later. I did not make a large contribution, but the fact that she would take the time to write to me and acknowledge what I did meant so much. So I vowed to do this for other young people with similar need."
"There are many people who are severely disadvantaged and lack a mentor or someone who says, 'I believe in you, and if you work hard there is a path for you'"
—Nancy Rae Parker
Parker decided to make provisions for Harvard in her estate plan, with the idea that her support could help remove obstacles for future Harvard students. She had the means to contribute a significant amount, thanks to some appreciated stock, but faced capital gains taxes that could limit the impact of her gift. When she learned about the option of a charitable gift annuity, which could be funded with the securities while avoiding the taxation on a sale and generating both income and a deduction, it was an easy choice.
Parker's gift annuity will establish the Nan Rae Undergraduate Scholarship Fund at Harvard, which will support students facing challenges to attend college. In particular, the fund will benefit students affected by the death of a parent, an illness in their family, violence, poverty, or those who come from single-parent households. It will also enable Harvard to continue to attract the brightest and most talented students from a wide variety of socioeconomic backgrounds to create a more diverse undergraduate class.
"What I have seen over a lifetime is that there are many people who are severely disadvantaged and lack a mentor or someone who says, 'I believe in you, and if you work hard there is a path for you,'" says Parker.
Among her numerous achievements, Parker's paintings have been licensed and reproduced as greeting cards sold worldwide and used by the New York Philharmonic and San Francisco Symphony, a gallery was named in her honor at Woodbury University in California, and she has exhibited at the Grand Palais in Paris. But above all, Parker has found her calling as a teacher. She has instructed more than 3,000 adults in the art of Chinese brush painting.
Whether it is her passion for teaching and painting, or her commitment to supporting students, giving to others is a core part of Parker's life. "Art is my work, but teaching is my purpose," she says. "It's a vehicle for me to really help people."
---
Explore more stories from Gift Strategies and contact University Planned Giving to learn more about supporting University programs.