Amy Kerdok PhD '06: Thinking in Motion
August 8, 2014
This is part of an ongoing series that tells the stories of Harvard's alumni at home and abroad.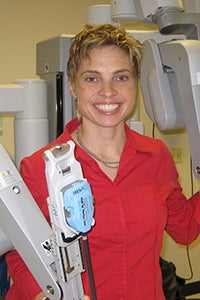 When Amy Kerdok PhD '06 was eight years old, she shattered her ankle in a ski accident. The compound fracture was so grave that doctors told her she might never walk again. Most children would have been frightened. Kerdok was enthralled.
"I kept looking at the series of bones that formed my ankle," says Kerdok, who earned a doctorate in biomedical engineering at Harvard's Graduate School of Arts and Sciences in 2006 and who now works as a clinical development engineer at Intuitive Surgical, a manufacturer of robotic surgical systems in Sunnyvale, California. "I was amazed at the equipment the hospital used for my surgery and that there were people who were able to put me and my ankle back together. It made me want to learn how to become one of them and to learn more about the equipment they use."
A World of Wonder
Kerdok was always captivated by the way things work. She spent her childhood in Hudson, Massachusetts, constructing wooden cars with her father in his workshop or lugging suitcases of Lego bricks to her best friend's house to attempt a new record for most spaceships built in an hour. "When I first discovered human involuntary reflexes, I ran around the house for weeks tapping people on the knees to see it at work," she recalls.
At school, Kerdok was also drawn to sports. Always active, she discovered sports young and continued by playing varsity soccer, basketball, and softball in high school, and soccer, basketball, and lacrosse as an undergraduate at Rensselaer Polytechnic Institute, where she majored in biomedical engineering. "I was always intrigued by the physics of sports," she explains. "As an athlete, I approached the human body as a machine. The body has always been my true passion. Both sports and engineering help me understand it."
Write Your Own Program
Although her plan had been to find work in industry after college, Kerdok felt she needed to learn more about both health and engineering before she could be the engineer she hoped to be. She enrolled in the Harvard-MIT Program in Health Sciences and Technology as a Whitaker Fellow. Her master's thesis at MIT examined, with the late Tom McMahon from Harvard, the mechanics of running. When it was time to select a laboratory for her doctoral research, she chose to continue to work with Professor McMahon and officially transfer to Harvard.
"The body has always been my true passion. Both sports and engineering help me understand it."
"I looked at 13 labs in both universities," says Kerdok, whose PhD program included a three-month internal medicine rotation at Mount Auburn Hospital in Cambridge, an experience she describes as both humbling and humanizing. "Only two of those labs were at Harvard. But those two were my favorites. I liked that I was able to design my own program. I felt like I was an individual at Harvard—a person who had something to contribute and who was surrounded by this sea of people I could learn from."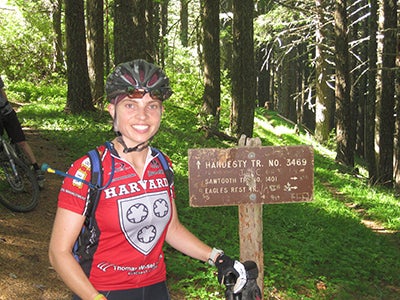 After Professor McMahon's death in 1999, Kerdok transferred to the Harvard Biorobotics Lab (one of her original top choices), led by Robert Howe, the Abbott and James Lawrence Professor of Engineering at the School of Engineering and Applied Sciences, Area Dean for Bioengineering, and Director of Undergraduate Studies for Biomedical Engineering. With that move came a shift from studying sports biomechanics to soft tissue biomechanics as it relates to surgical manipulation.
At Harvard, Kerdok discovered cycling and competed with the Harvard University Cycling Association, which she captained for three years. Cycling kept her in shape and also gave her a chance to ruminate on her research and lab work. "I've always done my best thinking in motion," she says. "When I was working on my doctoral thesis, I'd draft a chapter in the morning. Then I'd run or bike in the afternoon. When I went back to my desk in the evening, it felt like the chapter had rewritten itself."
With her PhD in hand, Kerdok and a friend mounted their bikes on the roof of her car and embarked on a road trip. They paused in Boulder, Colorado, where Kerdok did a short stint as a visiting researcher, and then went on to Canada where they competed in a grueling seven-day mountain bike race across the Canadian Rockies. With time running out—she had accepted a postdoctoral position at MIT for the fall—Kerdok "got serious about returning to industry" and drove to California, sitting for 13 informational job interviews in five days. One of those interviews was at Intuitive, where she saw something that would not only fulfill her professional goals but also change her life.
Just What the Engineer Ordered
Even though she had a healthy appetite, Kerdok had always had difficulty keeping food down, particularly during sports. She learned not to eat within three hours before lying down, and she slept with her head elevated at least eight inches off the bed. When she was 18, she was diagnosed with gastroesophageal reflux disease (GERD), a condition in which stomach contents leak backward into the esophagus, causing heartburn, nausea, and in Kerdok's case, regurgitation. The cause was a congenital hiatal hernia. Doctors put her on medication, which controlled some symptoms but did not cure her.
Kerdok was able to continue with her sports. But it wasn't easy. "I could adjust my position on the bike enough to keep most of my food down," she says. "And if you vomit while you're riding, it's not that big a deal. But I couldn't eat while I was running, which meant I couldn't do any long-distance events, and soccer even became an issue."
There were also concerns about the long-term effects of the medications she was taking. When she showed up for her first interview at Intuitive in the summer of 2006, Kerdok had been taking her meds for nearly 13 years—with the last few years at twice the recommended daily dose. She began to wonder whether there might be another solution, as not taking the drugs could lead to esophageal cancer but taking them could lead to calcium depletion or even gastric cancer. Soon after, she observed a Nissen fundoplication surgery performed with the da Vinci Surgical System—the robot made by Intuitive. She knew she'd found her answer. "I think like a mechanical engineer," she says. "I had a mechanical problem, a hole in my chest. We'd been trying to fix it with drugs. Why couldn't we just close the hole? I wanted to hop up onto the table and have the surgery right then and there."
"There are many advantages to robotic surgery. The robot acts as an extension of the surgeon's hands. You only touch what you need to touch."
She would wait nearly three years to have the procedure. The approval from her insurance carrier took time. She also had to locate an experienced surgeon. Because GERD was generally treated pharmaceutically, the procedure was somewhat rare in non-obese people. In addition, Kerdok needed to find a surgeon who had performed the operation robotically. "There are many advantages to robotic surgery," she explains. "The robot acts as an extension of the surgeon's hands. You only touch what you need to touch. The robot also offers superior 3D visualization, dexterity, and precision. In this particular operation, there's a nerve that, if severed, leaves you unable to swallow. I wanted to be sure the surgeon could see what he needed to see."
In 2009, Kerdok was finally wheeled into the operating room, where a surgical team and a da Vinci robot awaited her. "At Intuitive, patient value is our number one priority," she says. "I used to ask, 'Would you use this thing on your mother?' And now I was about to have it used on me." The last thing she remembers doing before succumbing to the anesthesia was checking to see whether the electrocautery settings were within the recommended range for the robotic instruments.
A Child at Play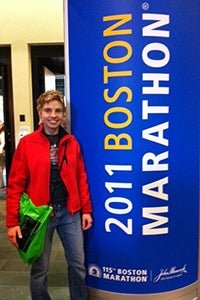 Today, Kerdok no longer needs to sleep with her head elevated. She can eat as much as she pleases, when she pleases. In 2011, she completed her first Boston Marathon—a feat that would have been unimaginable before the surgery. Her penchant for mechanics and passion for patient care continue to drive her work at Intuitive, where she serves as an interface between the company's design engineers and the surgeons who use their robots. "It's my job to distinguish between what the surgeons say they want and what they really need," says Kerdok. "It's not enough for me to go back to my engineers and ask for a specific device or modification. It's easy to design a new device or attachment. But what matters is whether that device will help the surgeon provide better care." In her role, she manages a team that ensures the safety and efficacy of every product the company brings to market.
For a girl once enchanted by ankle joints and knee reflexes, the job at Intuitive seems an almost ideal ending. But it's more of a prolonged beginning. She says she would eventually like to return to academia and pursue her love of teaching, something she also discovered at Harvard. But for the moment—even after seven years on the job—Kerdok still approaches her work like a child at play. "Not many companies have someone in this position," she admits. "There are still days when I have to remind myself I'm getting paid to do it."
---
More alumni: Read about Derek Flanzraich AB '10, who turned his personal struggles into a new way of communicating about health and wellness.