The Sharer: Adrian Jinich
February 7, 2015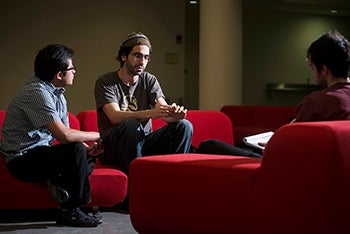 Talented students are everywhere and can compete with anyone—they just need support. This is one of Adrian Jinich's foundational beliefs; it inspired him to start a series of intensive, science-based workshops for high school and college students in his home country of Mexico, an experiment that is now rapidly expanding.
"We want to encourage kids to see science as a viable career option in Mexico," says Jinich.
A systems biology doctoral student in his fourth year at the Graduate School of Arts and Sciences, he tapped into the academic community at Harvard and beyond to launch a pilot program in Mexico where graduate students and postdocs from American universities lead free workshops of their own design, drawn from their own graduate work.
To finance the Clubes de Ciencia Mexico project, he secured funding from the Fundación México en Harvard and the David Rockefeller Center for Latin American Studies. Using the laboratories at local universities, like those of the University of Mexico, Jinich and 12 peers worked and lived together, teaching students with hands-on experiments.
For the debut in January 2014, Jinich led students in an exploration of plant biology and the future of agriculture, highlighted by the construction of a rooftop garden. "In 2050, there will be nine billion people on the planet, eating meat-rich diets," says Jinich. "There will be so many challenges hitting our food production and making harvests less predictable."
Students are chosen for their enthusiasm. "They are all interested in science, and they are extremely motivated," says Jinich of a community drawing more than 450 participants; instructors are from Harvard, Stanford, MIT, Rice, and Columbia.
Now, he and his colleagues have expanded the program to offer it in both summer and fall in four different cities in Mexico. It could not have happened without his experience at GSAS.
"Being from Harvard has opened a lot of doors," says Jinich. "People have been really receptive to the ideas, and I'm able to get funding from network supporters."
Jinich is drawn to interdisciplinary ventures, whether with the science clubs or in his experience at GSAS. He's been working in the lab of Alán Aspuru-Guzik, professor of chemistry and chemical biology, trying to predict the thermodynamics of metabolism with quantum chemistry. "It's a nice collaboration between two fields," says Jinich. "The flexibility of the program is particularly fantastic."
While still deciding which direction to take his research, he knows he wants to keep teaching and applying what he's learned, here and in Mexico. He and his colleagues are starting to use edX's open-source software to add an online element to the project.
"Clubes de Ciencia is like a MOOC with a human interaction component," says Jinich. "I think it is really effective when you can blend the two—direct, hands-on interaction with students and online resources that they can use to follow up and continue their learning."