On the Leading Edge of Teaching
Harvard is at the forefront of extraordinary changes in education
August 10, 2013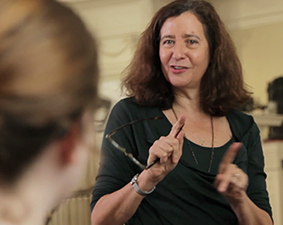 Elisa New, Powell M. Cabot Professor of American Literature, cradled a book of psalms in the First Church in Cambridge as she led a group of undergraduates in song. The Puritan melody they sang dates back to the 17th century, but the scene was decidedly 21st century: a crew was taping them for online and campus use.
New is adding a digital twist to her teaching by developing a survey course on American poetry for edX, the learning and research platform founded by Harvard and MIT to broaden access to high-quality education worldwide and to enhance teaching and learning on campus and beyond. New plans to debut the first HarvardX segments this fall and eventually fold the interactive content into her Harvard College classroom.
"It's fun and exciting to imagine how to teach American poetry in the richest possible way and to have a skilled team helping me do it," New said this summer from the offices of HarvardX, the University-wide initiative that launched in 2012 to support broad faculty innovation in the use of technology in teaching, including edX projects. "It's like having a paint box with so many different colors."
Like New, faculty members across Harvard are exploring and inventing new ways to engage students and reimagine education in today's global, digital, and fast-changing world. They are incorporating multimedia materials, promoting active learning, embracing flexible spaces, and tapping the Internet to study how we learn.
The University is leading change in teaching and learning like nowhere else in higher education, harnessing its extraordinary resources to catalyze conversation and action. A key player is the Faculty of Arts and Sciences (FAS).
"We have an opportunity to shape the future of education," says Michael D. Smith, Edgerley Family Dean of the Faculty of Arts and Sciences and John H. Finley, Jr. Professor of Engineering and Applied Sciences. "Our faculty are coming together like never before to understand how to use our classrooms better, how to open new pathways to learning through technology, and how to guide the new science of learning to improve our teaching methods.
"Our students will benefit first," Smith adds, "but the impact of these efforts will be felt around the world."
TRANSFORMING LEARNING
A focal point is the Derek Bok Center for Teaching and Learning, which has long supported best practice in undergraduate classrooms. Today, that cutting-edge approach includes helping faculty integrate digital innovations in teaching with their on-campus teaching. The center, for example, collaborates with HarvardX on creative video design and assessment for online projects.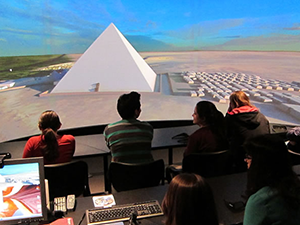 In June, the Bok Center co-hosted a workshop to spur inventive teaching in math, science, and engineering. Meeting in the Connaughton Room in Pierce Hall—a recently renovated flexible classroom that fosters brainstorming and teamwork—some 30 Harvard colleagues practiced active-learning techniques (like having students vote on answers with clickers), reviewed research on new teaching methods, discussed course design, and devised hands-on experiments for their students.
"The opportunity to combine research on how students learn with technology makes classroom teaching more exciting and effective than ever," observes Robert A. Lue, the first Richard L. Menschel Faculty Director of the Derek Bok Center for Teaching and Learning. Lue, a national leader in educational innovation, is also faculty director of HarvardX.
MULTIPLE MODES
Studies suggest that successful teaching involves multiple approaches—that the brain remains active when it shifts from one mode to another, says Lue, a professor of the practice of molecular and cellular biology. During a typical undergraduate class, Lue might show a digital simulation, lecture for 15 to 20 minutes, have students work in small groups, then share back. "So in one class, I might do four or five different things."
Astronomy professor Alyssa Goodman also blends traditional lectures with high- and low-tech activities. Students in her General Education class on visualizing data, for instance, use geographic information system (GIS) technology to analyze how long it takes to get from Cambridge to Allston by foot, bike, or bus. They also visit the 200-year-old Harvard Map Collection and relate old maps to modern GIS.
In Goodman's graduate course Interstellar Medium and Star Formation last spring, students created online modules and presented them at a DemoFest that she recalls was "a rip-roaring success." One project explains why images of nebulae taken by the Hubble Space Telescope appear to have the colors they do and lets users make "fake" Hubble pictures. "I look forward to more of this experimentation," she says.
Professor of History Maya Jasanoff, meanwhile, weaves technology into her course on the British Empire; she uses Google Earth, embedded with video, images, and music, to "fly" students to World War I memorials and other sites.
FAS faculty also are tapping the web's data-gathering power to gain insights into how humans learn. In a recent study, Daniel L. Schacter, William R. Kenan, Jr. Professor of Psychology, and postdoctoral fellow Karl Szpunar found that giving short tests during online lectures can reduce students' mind wandering and improve retention.
FRUITFUL COLLABORATIONS
The opportunity to reshape teaching and learning has spawned exciting collaborations among Harvard faculty, students, staff, and even alumni.
Gregory Nagy, Francis Jones Professor of Classical Greek Literature and Professor of Comparative Literature, adapted his course on ancient Greek heroes for HarvardX and invited alumni who have taken the class to participate as mentors. He has also used the multimedia HarvardX content to energize the undergraduate and continuing education versions of his course.
Evelyn Brooks Higginbotham, Victor S. Thomas Professor of History and of African and African American Studies, and John M. Mugane, professor of the practice of African languages and cultures, are building a digital archive of interviews with Africans, African Americans, and Hispanics that reveals their influence in their communities. Students in three classes and some independent study projects created the "social portraits" in the collection.
Last spring, Elisa New involved undergraduate and graduate students—as well as guests including President Drew Gilpin Faust—in video shoots around Cambridge and Boston to illustrate the poetry of early New England; she also did shoots in Brooklyn and Manhattan for the segment on Walt Whitman. "The students loved being part of the experiment," she noted. "They weren't just consuming knowledge; they were producing knowledge."
New has huddled with colleagues well versed in virtual education, such as David J. Malan, senior lecturer on computer science, who offers traditional and online versions of his popular introduction to computer science. She also compared notes with Peter K. Bol, Charles H. Carswell Professor of East Asian Languages and Civilizations, a veteran user of digital technologies in his research and teaching.
ENRICHING THE CLASSROOM
This fall, Bol is co-teaching a HarvardX course on China's past, present, and future with William C. Kirby, T. M. Chang Professor of China Studies at Harvard University and Spangler Family Professor of Business Administration at Harvard Business School. The two have taught a similar class online through the Division of Continuing Education, but the next generation version will be more interactive and visually dynamic.
Some of the content emerged from an innovative Chinese history course Bol gave last spring, in which students assembled or created short videos, illustrations, maps, text, and images, and began recording interviews with more than 20 China specialists from across the University. Work continued over the summer with support from HarvardX and Bok Center staff.
Taking the increasingly popular "flipped classroom" approach, Bol and Kirby plan to incorporate this new digital material into their Gen Ed class on China. Students will, for example, watch short video lectures and respond to some online questions as homework.
"So when we come to class, we can devote our attention to discussion and debate," Bol says. "There will be much more student-professor interaction. This is going to be tremendous for Harvard College students."
---
Choose Harvard today with a gift to the Harvard College Fund.