I Choose Harvard: Richard L. Menschel MBA '59, P'04, '99, '97
August 6, 2013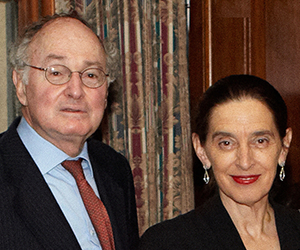 Richard L. Menschel MBA '59, P'04, '99, '97 knows outstanding teaching when he sees it: it's dynamic, engaging, and encourages students to participate. "Teaching can be so exciting, especially with the tools available today," he says.
Menschel wants to help amplify that sense of excitement in the Faculty of Arts and Sciences (FAS) and has endowed the faculty directorship of the Derek Bok Center for Teaching and Learning, which promotes research-based innovation in undergraduate classrooms. Menschel is delighted that Robert A. Lue, a professor of the practice of molecular and cellular biology and a leader in efforts to strengthen teaching nationally, is the first incumbent.
"[Lue] is interested in improving teaching through new techniques, and he has a lot of ideas for making the classroom experience more interesting for students—and probably more satisfying for faculty," Menschel says. Lue hopes to enhance feedback gathering "so faculty know whether students are really picking up the material or getting lost."
Menschel, a senior director at Goldman Sachs, lives in Manhattan with his wife, Ronay, the chairman of Phipps Houses. They have three daughters: Charis '97, Sabina '99, MBA '05, and Celene '04, MBA '13.
The Bok Center gift reflects Menschel's deep and long-standing affection and appreciation for the University. Over the years, he and Ronay have shared their generosity with several Harvard Schools and programs, such as the Business School, the Graduate School of Education, the School of Public Health (HSPH), and the Harvard Art Museums. They recently established the Richard L. Menschel HarvardX Research Fellowship, which supports faculty as they create and implement innovative digital content for courses and enables important HarvardX research on teaching and learning.
Menschel's involvement with Harvard includes many leadership roles, such as honorary co-chair of the forthcoming HSPH campaign, service on the University Campaign Executive Committee, and national co-chair of the University Campaign in 1992–99. In 2007, the Harvard Alumni Association recognized his extraordinary dedication with a Harvard Medal.
Supporting the FAS's teaching mission connects closely with Menschel's belief in the transformative power of education. "Education is essential if you want to make changes in your life," he observes. "Along with health, it's a key ingredient for growth and success."
---
Choose Harvard today with a gift to the Harvard College Fund.