I Choose Harvard: David Golden '80, JD '83
August 6, 2013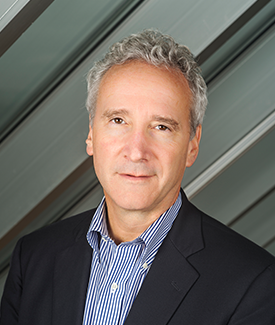 As an investor in emerging companies, David Golden '80, JD '83 is always on the lookout for technology-driven innovation. That's why he took notice of Harvard's foray into cutting-edge online education. Golden is making a significant gift to support HarvardX, which is helping faculty create digital content for courses offered through edX, the University's new nonprofit partnership with MIT. "This is about taking the most interesting, vibrant intellectual property in the world and making it accessible," says Golden, a managing partner at Revolution Ventures in California.
In addition to spreading knowledge, the project will benefit Harvard College students by shedding light on how people learn and by providing campus classrooms with engaging multimedia materials, he notes. "I think HarvardX makes clear that the University cares passionately about quality teaching."
Although edX courses are free, Golden believes certain offerings have the potential to generate revenue for the University down the road.
This spring, Golden became a HarvardX consumer by enrolling in the iconic course Justice, taught by Michael Sandel, Anne T. and Robert M. Bass Professor of Government. Taped in Sanders Theatre, the course reminded him of two extraordinary classes from his freshman year and the power of great teaching. One class was an introduction to American government by the late James Q. Wilson, former Henry Lee Shattuck Professor of Government. "This man would stand up in Sanders and, without notes, speak in paragraphs," Golden recalls. "He was mellifluous and articulate and funny, and I thought it was absolutely amazing. I became a government concentrator in large part because of that teaching."
A second class was Golden's section of Economics 10, which was led by then-graduate student Lawrence H. Summers, Charles W. Eliot University Professor and president emeritus of Harvard University. "There were 15 of us around a table, three times a week for a year, with Larry Summers, and it was the most engaging interactive forum."
Golden, who grew up outside Minneapolis, also relished living in Lowell House with students from around the country and the world.
After Harvard Law School, Golden worked for a New York law firm, then began a 25-year career in entrepreneurial finance, many of them with Hambrecht & Quist and then its successor, JPMorgan Chase. In 2006, he joined Revolution, a private investment company headed by AOL cofounder (and friend) Steve Case. Golden recently formed Revolution Ventures, the company's early-stage investment arm. He lives in San Francisco with his wife and two daughters.
Golden's involvement with HarvardX grew out of an extended "listening tour" he took with friends Scott Malkin '80, MBA '83, JD '84 and Carlton Cuse '81 to learn about innovation at Harvard. "About halfway through, we heard about HarvardX, and I thought this was very exciting," Golden says. "I believe we're in the third pitch of the first inning of this game, and that HarvardX will look very different in five years. There will be lots of arguments and celebrations along the way. It will be fun and interesting to watch."
---
Choose Harvard today with a gift to the Harvard College Fund.