Meeting Archive
Learn more about past Global Advisory Council meetings:
2018 Annual Meeting
Highlights from the 2018 meeting include:
The inaugural Mahindra Award ceremony honoring Nobel Laureate and author J.M. Coetzee.
Dinner at the Harvard Art Museums with a performance by YoYo Ma's The Silk Road Ensemble.
Breakfast with student innovators and young alumni advancing global well-being through entrepreneurial start-ups focused on science, education, and environmentalism.
Panel discussions on the impact and direction of global trade, and the roots of inequality.
A conversation with President Larry Bacow in his first year as President.
Breakfast with student innovators and young alumni entrepreneurs. Click here for participants.
Panel #1 Global Trade and Where It's Going with Robert Rubin, Gita Gopinath, Willy Shih, and Mark Wu discussed the current state of global trade and trade conflicts.
READ: "Interview with Gita Gopinath" (Federal Reserve Bank of Minneapolis)
VIDEO: Trade: It's All About the Dollar (YouTube)
READ: "When Will the Tariff Battle with China Start To Affect Us?" (Forbes)
VIDEO: The Big Picture on Trade (YouTube)
READ: "The 'China, Inc.' Challenge to Global Trade Governance" (Harvard Innovation Law Journal)
VIDEO: International Trade in the Digital Age (YouTube)
Panel #2 Improving Equality of Opportunity: New Insights from Big Data with Raj Chetty, Shaun Donovan, and Claudine Gay.
READ: "Detailed New National Maps Show How Neighborhoods Shape Children for Life" (New York Times)
READ: "What Government Does" (New York Times)
VIDEO: TED Talk (YouTube)
READ: "Reflections on Inequality in America Initiative's First Year" (Harvard Gazette)
Conversation: Advice to the President from the Global Advisory Council
Questions for reflection, as posed by President Bacow:
As I begin my tenure as Harvard's president, I have received a lot of advice—some solicited, and much unsolicited. As you are distinguished leaders who successfully run organizations, and good friends of Harvard I have come to know and respect, I would like to ask for your directed advice and guidance to me as I am starting out my presidency, and for Harvard in the coming years.
Harvard is a global institution. In a time of growing populism and nationalism throughout the world, how should Harvard engage with other institutions across the world and respond to trends that are more inward looking?
2017 Annual Meeting
Highlights from the 2017 meeting include:
Reception and dinner in Loeb House with a musical tribute to creativity and conversation with Grammy award-winning jazz artist and Department of Music Professor of the Practice Esperanza Spalding, and Council Chair David Rubenstein.
Breakfast with student and young alumni entrepreneurs.
Conversation with President Faust on how Harvard can best respond to nationalist sentiment.
Three faculty panel discussions on science, U.S. foreign policy, and global citizenship.
Final roundtable discussion with President Faust and Council Chair David Rubenstein offering advice, guidance and reflections on Harvard's role as a global university.
Harvard Presidential Search briefing and discussion.
Announcement of the Mittal family's transformative gift to rename the South Asia Institute at Harvard University to the Lakshmi Mittal South Asia Institute at Harvard University. Read more about the Mittal family's gift in the Harvard Gazette.
We are pleased to share minutes from each of the meeting sessions along with briefing materials.
Breakfast with student and young alumni entrepreneurs. Click here for a list of participants.
Conversation with President Faust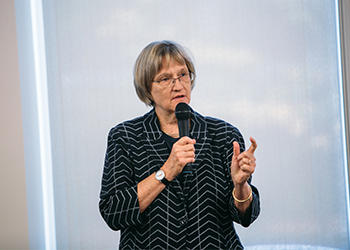 David Rubenstein and President Faust opened this year's meeting by posing questions to the audience for discussion, such as the role can Harvard play in tackling current global challenges like nationalism.
Faculty Panel #1: Pathbreaking Science: Where Hope and Democracy Begin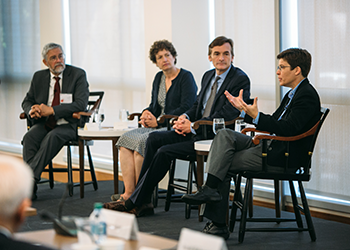 A conversation with scientists John Holdren, Jennifer Lewis, Steven McCarroll, and Rachel Wilson about the role and impact of the University in expanding scientific knowledge and influencing policy for the common good.
Faculty Panel #2: U.S. Foreign Policy: Where Do We Go From Here?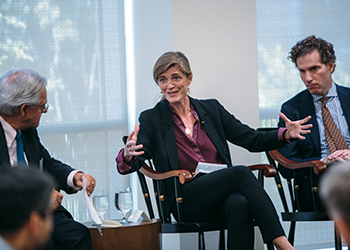 A conversation led by E.J. Dionne Jr., with Ash Carter, Noah Feldman, and Samantha Power on how U.S. foreign policy will affect the University's role in—and view of—the world.
Faculty Panel #3: Global Citizenship and Global Responsibility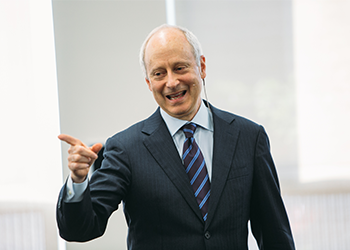 Michael J. Sandel facilitated a large-group discussion about what it means to be a global citizen.
GAC Roundtable and Closing Session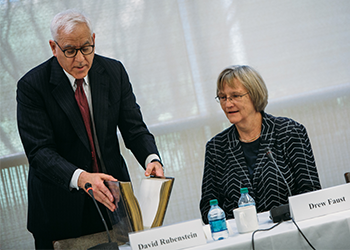 This year's meeting closed with a conversation between David Rubenstein and President Faust, who reflected on how the world and the University have changed since 2007, when she became Harvard's 28th president, and shared her hopes for Harvard in the years to come.
2016 Meeting
Thank you for a successful fifth annual Harvard Global Advisory Council meeting in October 2016.
The meeting provided an opportunity for members to connect with each other, examine topics of concern to the University and the world, and to hear from President Drew Faust on the progress of Harvard's global engagement. For an overview and summary of the meeting, please refer to this link of the 2016 meeting notes.

Highlights from the meeting included:
Before dinner, GAC members and guests viewed a specially curated exhibit of rare documents and manuscripts from The Harvard Library, displayed and discussed with curators from the Library.
After dinner, GAC members and their guests were treated to a special performance with faculty and student jazz musicians.
Young alumni and student entrepreneurs shared their inventions during an informal breakfast. Click here for a list of start-ups participating in the session.
GAC members joined small group discussions on our black holes and our expanding universe, the potential of gene editing technologies, and conversation with researchers in issues ranging from poverty to women's health and brain science.
In the midst of this polarizing U.S. presidential campaign, GAC members participated in a discussion led by David Rubenstein on the implications of the U.S. election.
David Rubenstein presented President Faust with two historical gifts: a photo of the Harvard Board of Overseers in 1913 signed by all members, including Theodore Roosevelt; and a hand-edited version of John F. Kennedy's Harvard Commencement Address from 1956.
Listen to audio recordings of the discussions:

2016 Meeting Materials
Post-reads:
Pre-reads:
Harvard Magazine article to learn more about the history of Widener Library, which celebrated its centennial last year.
Yosvany Terry, senior lecturer on music, director of jazz ensembles, and Grammy-nominated saxophonist, percussionist, and composer.
Harvard student innovators in the Boston Globe, and the breakfast innovation teams.
Editing the Human Blueprint Session related articles:
MacArthur Fellows Session related articles:
Interstellar Exploration and Humanity Session related articles:
Lunch discussion on presidential election related articles:
2015 Meeting
2015 Meeting Materials
2014 Meeting
2014 Meeting Materials
2013 Meeting
2013 Meeting Materials
2012 Meeting