Meeting Archive
Learn more about past Global Advisory Council meetings:
2017 Annual Meeting
Highlights from the 2017 meeting include:
We are pleased to share minutes from each of the meeting sessions along with briefing materials.
Breakfast with student and young alumni entrepreneurs. Click here for a list of participants.
Conversation with President Faust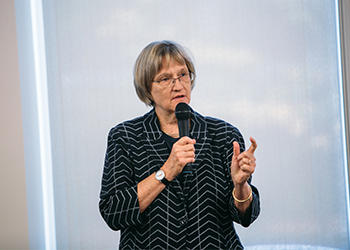 David Rubenstein and President Faust opened this year's meeting by posing questions to the audience for discussion, such as the role can Harvard play in tackling current global challenges like nationalism.
Faculty Panel #1: Pathbreaking Science: Where Hope and Democracy Begin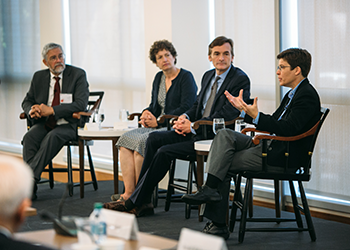 A conversation with scientists John Holdren, Jennifer Lewis, Steven McCarroll, and Rachel Wilson about the role and impact of the University in expanding scientific knowledge and influencing policy for the common good.
Faculty Panel #2: U.S. Foreign Policy: Where Do We Go From Here?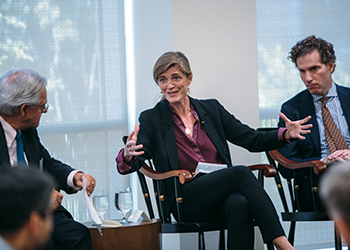 A conversation led by E.J. Dionne Jr., with Ash Carter, Noah Feldman, and Samantha Power on how U.S. foreign policy will affect the University's role in—and view of—the world.
Faculty Panel #3: Global Citizenship and Global Responsibility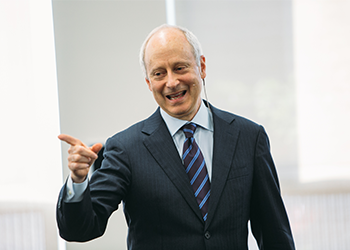 Michael J. Sandel facilitated a large-group discussion about what it means to be a global citizen.
GAC Roundtable and Closing Session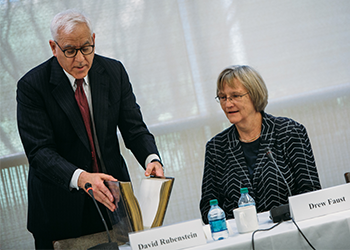 This year's meeting closed with a conversation between David Rubenstein and President Faust, who reflected on how the world and the University have changed since 2007, when she became Harvard's 28th president, and shared her hopes for Harvard in the years to come.
2016 Meeting
Thank you for a successful fifth annual Harvard Global Advisory Council meeting in October 2016.
The meeting provided an opportunity for members to connect with each other, examine topics of concern to the University and the world, and to hear from President Drew Faust on the progress of Harvard's global engagement. For an overview and summary of the meeting, please refer to this link of the 2016 meeting notes.

Highlights from the meeting included:
Listen to audio recordings of the discussions:

2016 Meeting Materials
Post-reads:
Pre-reads:
2015 Meeting
2015 Meeting Materials
2014 Meeting
2014 Meeting Materials
2013 Meeting
2013 Meeting Materials
2012 Meeting