HGSE's Future of Education: Leading for Equity
Presented by the Askwith Forums
Register Here
Add to Calendar
09-24-2020 16:30:00
09-24-2020 17:30:00
America/New_York
HGSE's Future of Education: Leading for Equity
Richard Carranza, Chancellor, NYC Department of Education; Janice Jackson, CEO, Chicago Public Schools; and Brenda Cassellius, Superintendent, Boston Public Schools share insights on leading for racial equity in school districts.

View more info at https://alumni.harvard.edu/events/hgses-future-of-education-leading-for-equity
Harvard Graduate School of Education
events@gse.harvard.edu
MM/DD/YYYY
Date:
Time: 4:30 - 5:30 p.m. EDT
Location: Virtual Event
Attendance Policy: Open to public | Open to students | Open to alumni | Registration required
The racial inequities that exist in our nation's institutions, including our school systems, have been amplified by the disproportionate impact of the COVID-19 pandemic on communities of color, as well as through the racial justice movement that gained momentum this summer.
Join us as we welcome Richard Carranza, chancellor of the NYC Department of Education; Janice K. Jackson, CEO of Chicago Public Schools; and Brenda Cassellius, superintendent of the Boston Public Schools. Together, they will share their insights about leading for racial equity in school districts.
This conversation is moderated by Senior Lecturer Jennifer Cheatham, co-chair of the Public Education Leadership Project (PELP).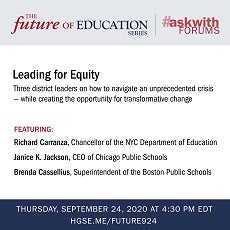 Future of Education is a series created in recognition of HGSE's Centennial year (2020) to highlight new knowledge and foster stimulating and constructive conversation about the most important issues in education. The series focuses on a range of critical topics, including leadership challenges, approaches to supporting student success, advances in learning sciences, and ethics for the education profession — with scholars, practitioners, and thought leaders from across and beyond the education sector.