Clubs & SIGs Programming
With nearly 200 Harvard Clubs and Shared Interest Groups open to more than 320,000 University alumni worldwide, the Club and SIG network is the HAA's largest person-to-person outreach program.
Harvard Clubs and SIG allow alumni opportunities to customize their HAA experience. Harvard Clubs & SIGs encourage Harvard graduates to connect to Harvard friends, alumni, and students from across the University over wide-ranging personal and professional interests, whether or not these stem directly from their Harvard experience.
You are invited to learn more about the very popular and successful Club & SIG programming opportunities:
Early College Awareness
Planning Your Event
Participating Harvard Clubs
Resources and Links
Contact Us
According to the Harvard Impact Study, Education is the #1 focus for alumni volunteer efforts. Early College Awareness (ECA) provides Clubs, SIGs and individual classes with a meaningful and easily doable community service program designed to help students and parents understand that a college education is an achievable goal.
The ECA program is not an admission recruitment program for Harvard. The purpose of the program is two-fold. ECA aims to actively engage middle and high school students who don't think college is an option, or who might be the first in their family to consider attending a college, and gives greater assurance to young students and their families that attending and paying for college is a realistic goal. ECA provides further purpose to alumni/ae seeking to extend their involvement in education beyond Harvard-centric efforts such as interviewing and Prize Book.
ECA program options range from a single school assembly presentation on "college is achievable for all" to classroom speaker programs that "Make The Curriculum Real" through professional and personal alumni stories to half and full day events held jointly with local community partners. ECA can work at a single school, or across a wider geographic area; and in ways that require little or no expense to Clubs, SIGS, or classes.
To learn more about HAA's Early College Awareness program, please review the following presentation from the 2017 Early College Awareness Webinar as well as the ECA toolkit including power point presentations.
If you're interested in learning more about ECA and assistance in launching a program, please contact Larry Kahn or Peter Mazareas, or Harvard Clubs & SIGs at clubs@harvard.edu
---
Planning Your Event
How it works
Volunteers from the local Harvard Club will start by contacting a school's superintendent, principal, and/or guidance counselor for approval before developing the program's content. Venue logistics are handled by Club volunteers, and the event is presented free of charge to the 7th and 8th students and parents.
Six Steps to Implement an ECA Program
An Early College Awareness program can take many forms as long as it accomplishes the dual mission of alumni engagement and delivering a 'college-possible' message to students in 7th through 11th grades who may not think it is possible or worthwhile. This Toolkit outlines the six steps and four basic models to consider:
Decide which ECA model or combination you wish to implement
Establish an ECA Committee and Chair
Identify any contacts/relationships with specific school or school district administrators that your alumni may have.
Reach out to the school administrators, discuss options, and schedule a date.
Reach out to potential partner organizations.
Develop communication strategy and presentation format.
Models
Half-day/One-day Community-Wide Program
In School Assembly
In Classroom Speakers that "Make The Curriculum Real"
Partner w/ local school outreach ("Teach-In Day")
Examples of past speakers & programs:
Len Elmore, who played for the University of Maryland basketball team, and then played professionally for the New York Knicks. After retiring from professional basketball, he further continued his formal education, earning a law degree from Harvard Law School.
Jean Fugett, a college graduate who played for the Dallas Cowboys in Super Bowl X, and went on to manage Beatrice International, an international company headquartered in Paris.
At the conclusion of the ECA program, many Harvard Clubs raffle off college-items such as tee shirts, hats, lanyards or sweat shirts for the students.
---
Participating Harvard Clubs
The experience of Harvard Clubs with the ECA program has led to important connections and collaborations with local educational institutions, teachers, counselors and administrators, speakers, sponsors, supporters, and services providers who also encourage families from less advantaged backgrounds to plan early for their children's higher education. Presenting ECA as an event makes this process manageable, memorable, and distinguishable, if not unique in the community. This program and its processes can easily relate to other services and organizations too.
Harvard Alumni Contact in Honduras
Harvard Arab Alumni Association
Harvard Club of Beijing
Harvard Club of Bolivia
Harvard Club of Boston
Harvard Club of Broward County
Harvard Club of Bulgaria
Harvard Club of Central Florida
Harvard Club of Chicago
Harvard Club of Chile
Harvard Club of Fairfield County
Harvard Club of Finland
Harvard Club of Israel
Harvard Club of Japan
Harvard Club of Merrimack Valley
Harvard Club of Mexico
Harvard Club of Minnesota
Harvard Club of Monterrey
Harvard Club of Naples
Harvard Club of New Jersey
Harvard Club of North Shore
Harvard Club of Northeast Ohio
Harvard Club of Phoenix
Harvard Club of Seattle
Harvard Club of Shanghai
Harvard Club of Southern California
Harvard Club of St. Louis
Harvard Club of Switzerland
Harvard Club of the Republic of China (Taiwan)
Harvard Club of the United Kingdom
Harvard Club of Virginia
Harvard Club of Western Pennsylvania
Harvard-Radcliffe Club of Maryland
Harvard-Radcliffe Club of Westchester
Rocky Mountain Harvard University Club
* These Harvard Clubs participate in the ECA Program according to the 2017-2018 Club and SIG Annual Reports.
---
Resources and Links
Resource Materials for Clubs to Use in Program Development:
ECA Timeline
ECA Introductory Letter to Potential School Participant
Sample ECA Program Agenda
Sample ECA Program Agenda - Phoenix
Sample Event Brochure - Minnesota
Sample Event Brochure - DC
Sample Event Brochure (Spanish)
Sample Panelist Certificate
Sample Speaker Certificate
PowerPoint Presentation: Making Curriculum Real (4.11.2014 - Lynn Classical High School) - Event Pictures: (1, 2)
ECA Flyer (4.26.2014 - KIPP: St. Louis)
Useful Resources and Information for Attendees:
The Sallie Mae Fund - Free Downloads for Financial aid and Scholarship Info
PowerPoint Presentation: How to Pay for College
Powerpoint Presentation for Informational Session: CollegePrep Jeopardy
Additional Education and College Planning Links:
College Planning
National College Finance Center
Federal Government
College Board
American Council on Education
529 College Savings
College Savings Plan Network
Saving for College
College Savings Foundation
Scholarships
Edu.Fastweb.com
Scholarships.com
State Agencies: Most states have student loan authorities and 529 Programs that provide a host of free services and resources. Contact your state's entity for assistance. Two examples include:
Massachusetts Educational Financing Authority
Iowa Student Loan
Useful Research:
From Aspiration to Action - Institute for Higher Education Policy
Potholes on the Road to College (Case Studies) - Consortium on Chicago School Research
Double the Numbers for College Success - Washington, D.C. Call to Action
Contact Us
For schools & school districts interested in starting this program in these or other areas, feel free to contact Monika Song-Ngam at monika_song-ngam@harvard.edu, or Clubs and SIGs at clubs@harvard.edu
---
Global Networking Night
"Global Networking Night (GNN) is living proof of the dynamism and connectedness of the Harvard alumni community. Each year we see more cities participate and more alumni attend to strengthen their personal, professional, and intellectual bonds within the network. I hope you will participate in our next GNN."
-Philip W. Lovejoy
Global Networking Night (GNN) is a great opportunity to explore and expand your Harvard Network. This unique annual event brings alumni together for one night a year in cities around the world. Held in local establishments, GNN events are designed to provide networking opportunities in fun, informal, and relaxed settings. The first GNN, held on December 30, 2008, saw over 1,700 guests in 15 locations across the globe. Since then, GNN has expanded to over 100 locations hosting more than 8,000 attendees each year. All GNN events are open to Harvard alumni, students, faculty, and their guests. Attendance in most cases is free, although some locations may have food and beverage available for purchase.
FREQUENTLY ASKED QUESTIONS
Interested in attending Global Networking Night?
The next Global Networking Night will be held in January 2021! Be on the lookout for more details to come in the fall of 2020.
Who is eligible to participate?
This event is open to Harvard alumni, students, and faculty. Guests are welcome. No recruiters or external companies please.
How much does it cost?
Event attendance in most cases is FREE; food and beverage may be available for purchase.
How can I learn more about networking with the Clubs and SIGs hosting?
You can learn more by looking at our online Club/SIG directories.
Harvard Prize Book
Introduce talented young people to the opportunities available at Harvard, and recognize their scholastic and personal achievements through the Harvard Prize Book program. Prize Books are presented annually in more than 2,000 high schools around the world to outstanding students in the next-to-graduating class who demonstrate excellence in scholarship and achievement in other nonacademic areas. The award is often given at the school's graduating exercises, with appropriate remarks by a local alumnus/a.
To establish a Prize Book award, a Harvard Club/SIG or Club/SIG member need only contribute the cost of one book. Participating Clubs and SIGs should contact the local high school principal and guidance counselor to introduce the program and to select the student to receive the award. Most Clubs and SIGs choose from titles offered by the HAA, although Clubs and SIGs may choose books not on this list.
There are three books available for presentation as a Harvard Prize Book: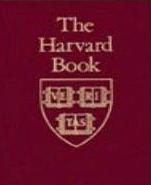 THE HARVARD BOOK, by the late William Bentinck-Smith, is a collection of passages and quotations about Harvard. The revised version of The Harvard Book adds 120 pages to all of the original 1953 material. The book includes passages by Presidents Eliot, Lowell, Conant, and Pusey and narratives of the presidencies of Nathan Pusey and Derek Bok. Contributing writers include John Updike, Theodore H. White, Erich Segal, David Halberstam, Barbara Ward, Jackson Bate, Charles Dickens, Oliver Wendell Holmes, Thomas Wolfe, Cleveland Amory, Alistair Cooke, and Archibald MacLeish. Price: $24.00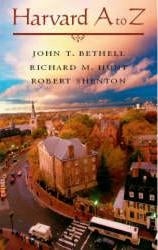 Harvard A-Z, by John T. Bethell AB '54 et al., offers an alphabetical compendium of short, but substantial, essays about Harvard University. The book contains more than two hundred entries written by three Harvard veterans who bring to the task more than 125 years of experience within the University. The entries range from essential facts to no less interesting ephemera—from the Arnold Arboretum designed by Frederick Law Olmsted to the peculiar medical specimens of the Warren Museum; from Arts and Athletics to Towers and Tuition; from the very real environs (Cambridge, Charles River, Quincy Street) to the Harvard of Hollywood and fiction. Price $23.00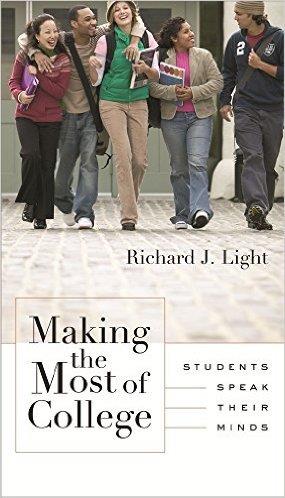 Making the Most of College: Students Speak Their Minds, by Richard J. Light PhD '69, offers concrete advice from his 10 years of interviews with Harvard seniors. Professor Light answers fundamental questions: How do you choose classes wisely? What is the best way to study? Why do some professors inspire you while others leave you cold? How can you connect what you're learning in the classroom with the rest of life? Filled with practical advice, illuminated with stories of real students' self-doubts, failures, discoveries, and hopes, the book is a handbook for academic and personal success. Price $19.00
Shipping
Orders can be made online. For orders of ten or more books, bulk shipping is included within the continental United States. For domestic orders of one to four books, there is a flat $4.95 shipping charge. For domestic orders of five to nine books, there is a flat $9.95 shipping charge.* International shipments are based on current U.S. Postal Service rates and air charges.
*Please note: Domestic shipping rates are to a single address only. Please email info@thecoop.com for further questions about shipping.
Ordering
Place all orders with The Harvard Coop mail-order by clicking here or by calling Cortney Campbell at (800) 368-1882. For questions about ordering, please contact The Harvard Coop mail-order staff at (800) 368-1882 or email to ccampbell@thecoop.com.
To learn more about the Prize Book program, view the Prize Book Brochure here or contact (800) 654-6494 or clubs@harvard.edu.
Summer Community Service Fellowship Program
Help students thinking about working in the public interest by funding a Summer Community Service Fellowship (SCSF). Through this program, Clubs and SIGs have the opportunity to provide a fellowship to a Harvard undergraduate working with a nonprofit host organization in their local community or area. Participating Clubs and SIGs find the program to be an exciting and creative way both to support Harvard's students and contribute to their home communities. Club and SIG members particularly applaud the degree of "hands-on" engagement and interaction, as they directly speak with students about their experiences, receive student reflection reports at the end of the summer and make recommendations on fellowship award recipients to a selection committee representing Harvard University, the HAA, the Center for Public Interest Careers (CPIC), and hosting Clubs and SIGs.
Established in 1992, the Summer Community Service Fellowship (SCSF) program allows Clubs and Shared Interest Groups (SIGs) to provide funding to Harvard College students who are working to improve their communities over the summer break. The program provides one of the largest sources of funding for summer public service for Harvard College undergraduates.
The funding, which runs in the amount of $3,500-$5000 per student for 10 weeks of full-time work, is designed to cover the costs of living for students to both incentivize them to pursue public service and remove any financial burden that would prevent them from pursuing public service opportunities. The fellows are typically working an unpaid internship at a nonprofit organization or they have designed their own public service project.
The program is co-managed by the HAA and the Center for Public Interest Careers (CPIC) which is a part of Phillips Brooks House.
Students have applied their fellowships in a variety of places: a pediatric HIV program in St. Louis; a women's shelter in Washington, D.C.; a youth-enrichment program in South Miami; a theater company in Philadelphia; Students for an Energy-Efficient Environment in Lexington, Kentucky; a museum in Chapel Hill, North Carolina; and a medical center ob/gyn clinic in Minnesota, to name just a few.
Is your Club/SIG interested in offering the fellowship? Review our Frequently Asked Questions and contact clubs@harvard.edu or 1-800-654-6494.
If you are a current student seeking additional information, please visit the CPIC website.
To read about the experiences of a past Summer Community Service Fellowship recipient, please see: Annika Nielsen's reflection.