Harvard College Alumni
Campaign Priorities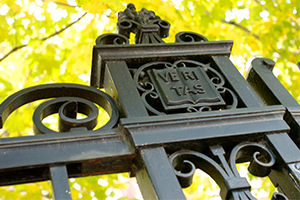 In October 2013, we launched a comprehensive campaign to ensure that Harvard continues to be a place of discovery for people leading positive change in the world. The Campaign will secure necessary resources to fuel Harvard's aspirations.
How does your work connect to the Campaign?
Through your own gift commitment and by spreading the word to your network, you invest in Harvard's foundation and in new ideas. You promote innovation. You strengthen the Harvard experience for today's students and for future scholars.
You support these ventures when you partner with the Harvard College Fund. Through your volunteer efforts, you give the leaders of Harvard College, the Graduate School of Arts and Sciences, and the Harvard John A. Paulson School of Engineering and Applied Sciences the agility to test ideas, push boundaries, and respond to opportunities.
Your volunteer fundraising efforts are at the heart of the Campaign's success. Thank you.
Learn more about The Harvard Campaign for Arts and Sciences.
Our Priorities
The Dean's Leadership Fund provides unrestricted funds that can be used immediately and flexibly, giving Harvard the capacity to continue as a place of discovery.
Harvard brings together the brightest minds across an unparalleled landscape of disciplines, with unrivaled resources and the freedom to explore fearlessly, think creatively, and act boldly.
Bringing the best and brightest young scholars to campus and helping them to thrive, no matter their backgrounds, is the foundation of Harvard's excellence.
The Houses are among Harvard's most important learning places, where undergraduates, graduate students, and faculty live, work, and learn together.
Like nowhere else in higher education, Harvard is exploring, innovating, experimenting, and leading change in how faculty teach and students learn.
Harvard is rethinking and dramatically expanding the place of engineering in higher education and reimagining the role of engineers in society.