I Choose Harvard: Lloyd Blankfein '75, JD '78, P'16, '10, '08
June 3, 2013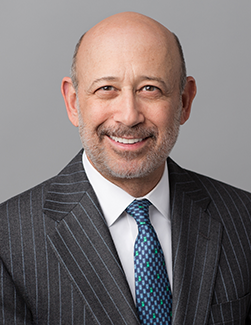 Growing up in a public housing project in Brooklyn, New York, Lloyd Blankfein '75, JD '78, P'16, '10, '08 didn't expect to land at Harvard. Few of the people around him went to college or had professional ambitions. His dad sorted mail, and his mother was a receptionist; Blankfein hawked hot dogs at Yankee Stadium for cash.
But Blankfein was a sharp go-getter, and he applied to Harvard at the urging of a college representative. Harvard saw his potential, offered generous financial aid, and introduced him to a different world.
"I got exposure to very talented, motivated people who grew up with success," Blankfein recalls. "That was diversity to me." The college experience steered him toward Harvard Law School and eventually the investment firm Goldman Sachs, where he started 30 years ago and is now chairman and chief executive officer.
As an undergraduate, Blankfein concentrated in social studies, loved his classes on unusual topics like Serbo-Croatian heroic literature, worked dorm crew and other jobs, and lived in Winthrop House. "I was living like a king," he says. "My college rooms were a lot nicer than my room in the projects." He remains close with several of his Harvard friends.
Blankfein has given back with significant time and financial support. He has established two undergraduate scholarships, the Blankfein Family Scholarship and the Blankfein Family Goldman Sachs Scholarship Fund, launched through his company's philanthropy program. A history professorship in the Faculty of Arts and Sciences (FAS) and scholarships at Harvard Law School and Harvard Business School also reflect his generosity.
With his wife, Laura, Blankfein contributes to the Harvard College Parents Fund on behalf of their daughter, Rachel '16, and sons, Alex '08, MBA '13 and Jonathan '10, JD '15, MBA '16.
Blankfein also encourages others through his leadership on several fundraising committees, including the Class of 1975 Gift Committee, the New York Major Gifts Committee, and the Dean's Campaign Steering Committee, and he'll be co-chairing the upcoming FAS campaign for financial aid.
What compels Blankfein is a desire to "reciprocate for the great opportunities I was given" and to keep Harvard College open to all deserving students, regardless of their economic means. "A Harvard that is accessible to everyone," he states, "is a great democratic institution."
---
Choose Harvard today with a gift to the Harvard College Fund.