I Choose Harvard: Robert Beal '63, MBA '65
August 5, 2013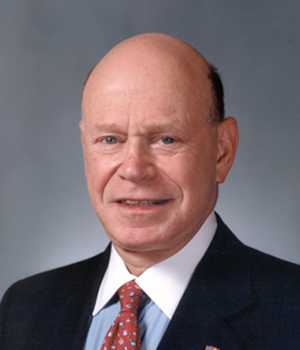 As an undergraduate, Robert Beal '63, MBA '65 studied history and government affairs, but the most enduring lesson of his Harvard College experience was about giving back.
"Harvard taught me to become civically and philanthropically involved with my community, and to become friends with many people," says Beal, a real estate developer and investor in Boston. He has shared his time, expertise, and generosity with the Faculty of Arts and Sciences (FAS) and several other Harvard Schools.
To mark his 50th reunion this past May, Beal plans to augment an endowment fund he established five years ago to promote exemplary teaching in the FAS—especially to recognize and reward junior faculty. In addition, he plans to support House Renewal, the bold program to breathe new physical and programmatic life into the cherished undergraduate residences. "I saw the design mock-ups for the renovation," Beal says. "It's wonderful what they've done."
Beal grew up in Brookline, Massachusetts, and followed the path of his father, Alexander S. Beal '31, to Harvard. After freshman year in Matthews Hall—where he remembers getting caught using the fireplace one night—and sophomore year in Mather House, Beal and several friends moved to Quincy House, known then as a hub of political debate. Beal, a "moderate Rockefeller Republican" at the time, was active with Advance, a progressive Republican magazine published out of Quincy. He was also involved with the Young Republicans, running for vice president on a moderate ticket with close friend Peter J. Wallison '63, LLB '66, who ran for president. They won.
As a kid, Beal learned to swim in the Harvard pool (in what's now called the Malkin Athletic Center), and he went on to manage the varsity swim team, among his extracurricular activities.
After Business School and 11 years with The Beacon Companies, Beal joined the family-owned Beal Companies, one of Boston's oldest real estate firms, in 1976. He and his brother, Bruce, were instrumental in helping Harvard acquire land in Allston for future campus expansion. Embracing the next generation, they recently partnered with Bruce's son, Bruce A. Beal, Jr. '93, president of Related Companies of New York, to form Related Beal.
Robert Beal, president of Related Beal, gives back to numerous nonprofit organizations, particularly in the areas of education, health, the arts, and social services. At Harvard, he is secretary and gift co-chair for the Class of 1963 ("I'm the class pickpocket," he jokes). Beyond the FAS, he chairs the Divinity School Leadership Council and the Kennedy School's Advisory Board for the Taubman Center for State and Local Government. His gifts include a School of Public Health professorship, created with Bruce to honor their father.
More than 500 classmates and several hundred spouses attended the 50th reunion, which featured opportunities to socialize, reflect on lives and careers, learn about Harvard today, and pay tribute to classmates who have died.
At the opening event with President Drew Gilpin Faust and FAS Dean Michael D. Smith, "I welcomed everybody and warned that if they hadn't contributed to annual giving, President Faust and Dean Smith would take back their diplomas," Beal recounts with a laugh. "The reunion was wonderful. We had a lot of fun."
---
Choose Harvard today with a gift to the Harvard College Fund.