Edward PhD '56 and Josefina Cintron Tiryakian PhD '69
I Choose Harvard
November 27, 2012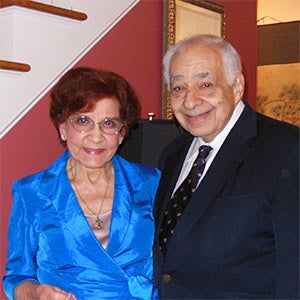 The first time Edward Tiryakian met his future wife, Josefina, she was deep in discussion about philosophy over lunch with a group of Harvard graduate students. Ed was immediately taken with the "attractive, intellectual brunette," but didn't catch her name.
Born in Puerto Rico, Josefina had just returned from studying in Europe before heading to Harvard in 1952 to pursue an advanced degree. "It was a fantastic environment for me. I was interested in learning as much as possible, not in going to lunch to socialize," she says.
Ed returned to the same graduate dining room every day until he found Josefina again on an occasion when she took a break from the books. They married in 1953 and went on to earn PhDs at Harvard—Ed in 1956 and Josefina in 1969, after the birth of their two children, Edmund and Edwyn.
The Tiryakians are appreciative of the financial support they received at Harvard – Ed as a teaching fellow and Josefina as a fellow at the Radcliffe Institute for Independent Study. To pass that gift along to the next generation, the Tiryakians recently established a Graduate Student Dissertation Fellowship Fund to support students in history and sociology, the two fields Ed and Josefina were studying when they met and fell in love.
"We don't have grandchildren, but assisting graduate students at GSAS is the next best thing."
A widely published scholar and a professor emeritus of sociology at Duke University, today Ed is at work on a book imagining sociological encounters as a series of novellas. Josefina continues her scholarly research and is a retired senior administrator of Duke's international studies center. They live in Durham, NC.