I Choose Harvard: Geraldine Acuna '92
After 20 years, one alumna renews her relationship with Harvard
January 2, 2013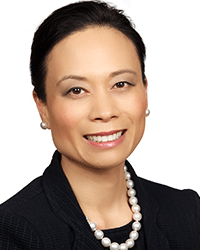 For Geraldine Acuna '92, reconnecting with the University after two decades has been a great experience. "It was around my 20th reunion," she says. "That is when I realized that I had become somewhat established in life—and that is when I started to think about all the good memories of college and focus more on what matters in life, like community. And Harvard was one of the best communities I have ever been a part of."
Like many alums right after college, Acuna had a lot going on. After completing her studies in government at Harvard, she pursued a master's in public policy from the Harvard Kennedy School and earned a JD from Columbia Law School. Currently she serves as senior counsel for Bracebridge Capital, but she has also been a consultant on various projects for the Philippine government, including the Philippine Supreme Court, the Senate President's Office, and the Department of Trade and Industry. Along with her husband, Gabriel Sunshine '91, she also raised three children.
But now, Harvard is something she is eager to focus on again.
"As a class leader, I have found it to be such a rewarding process to become reengaged in the Harvard community," says Acuna, who also serves on the Board of the Harvard Alumni Association. "I have mentored undergraduates and do interviews for the College. I have rediscovered old College friends and have made many new ones among alumni from various generations. Any kind of connection back to Harvard is life-enhancing."
Acuna's focus is financial aid. "I am a huge believer in it. We have such a wonderful financial aid package that we can offer students who otherwise would not be able to afford to come. As a result, Harvard is a place for diversity and attraction of talent. I see this for the undergraduates that I mentor."
During those two decades, Harvard was always in the back of her mind. "I have so many great memories of Harvard," she recounts. "I always get teary-eyed when I walk through the Yard and hold my son's hand. It is not until you are further away from your time at Harvard that you really appreciate the fruits of your education and how it helped to develop your character. It is a gift that you've received. Nothing can take that away from you."
---
Choose Harvard today with a gift to the Harvard College Fund.