House Renewal and the Student Experience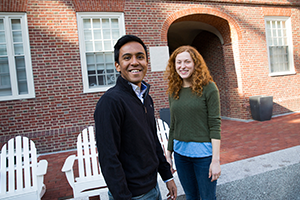 The Houses, the places our students call home, are among our most important learning places. Through the Campaign, we have the opportunity to reaffirm the central role of the Houses in undergraduate education. Once again, this commitment to advancing residential education will require philanthropy on a significant scale.
Key Facts
97 percent of Harvard undergraduates live in one of the 12 residential Houses.
House Renewal is the most ambitious capital project in Harvard College's history, spanning 37 buildings with an average age of 100 years.
Renewed Houses will feature a larger number of new common areas, including lounges and art and performance spaces, as well as enhanced connectivity in learning spaces with wireless Internet, and classrooms and seminar rooms with advanced technology to enable collaboration and interaction across campus and the world.
Stone Hall (formerly Old Quincy) reopened in fall 2013 as the first completed project. McKinlock Hall in Leverett House reopened in September 2014. Dunster House, the first full House to be renewed, reopened in September 2015, and renewal of Winthrop House began in summer 2016.
House Renewal and Student Experience Stories
Pages