Reunion Volunteers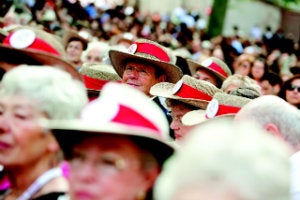 Volunteering with your class gift committee can be one of the most memorable and meaningful experiences for Harvard College and Radcliffe alumni and alumnae. Many volunteers also serve on their class program committee through the Harvard Alumni Association, which plans reunion events.
Successful reunion campaigns engage broad volunteer participation and engage in strong, focused planning beginning early in their reunion year. Class gift committees are led by co-chairs who set the bar, the strategy, and the tone of the drive, working together with the Harvard College Fund to establish fundraising goals that align with Harvard's priorities.
In addition, classes build comprehensive leadership structures that can include vice-chairs and participation chairs as well as leadership gift and participation committees. Opportunities exist for all alumni to be involved at whatever level appeals to them. Co-chairs and vice-chairs may make a handful of targeted leadership solicitations throughout the year, while participation volunteers often contact an average of 10 to 20 classmates. This peer-to-peer solicitation is at the heart of our work and is what makes Harvard's reunion program so successful.
"Reunion campaigns are an opportunity for us to rekindle our connection to Harvard while helping the College meet its goals. By participating, we're not only having an impact, we're deepening and continuing our Harvard experience."

—John Moon '89 and Jennifer Perini '85, Vice Chairs for Reunion Giving
Classes also host events throughout the year for volunteers and donors to build momentum for the reunion and to provide training for committee members. For more information or to join your class gift committee, please contact your class officer. You can also download the 2016–2017 HCF Volunteer Handbook (pdf).
We hope your will join your classmates and enjoy the experience of advancing your class's fundraising activity. Thank you for your continued support of Harvard.