Your Harvard: London
January 29, 2014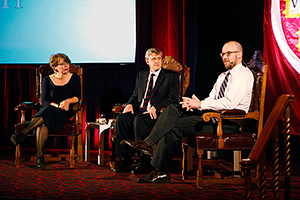 The "Your Harvard" event series kicked off in London on January 21, 2014. The series is designed to bring together the global Harvard community.
London's 15th century Guildhall played host to the evening, which featured remarks from President Drew Gilpin Faust and a lively conversation with David Hempton, dean of the faculty of divinity, Jill Lepore, David Woods Kemper '41 Professor of American History and Harvard College professor, and Michael Norton, associate professor of business administration and Marvin Bower fellow, Harvard Business School. A reception followed the discussion.
Read more about the faculty conversation on the Harvard Gazette or listen to it below.
For a taste of the evening, check out the pictures and tweets in the Storify slideshow.