A Visionary Investment
Robert James MBA '48, PhD '53 and Ralph James MBA '82
November 16, 2016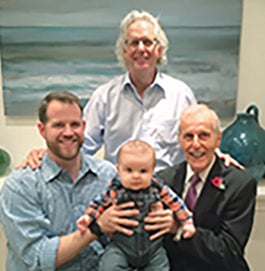 After earning his PhD in economics at the Harvard Graduate School of Arts and Sciences (GSAS), Robert James MBA '48, PhD '53 taught for four years and then went on to become, among many things, a branch chief of the Central Intelligence Agency, an oil company executive, and real estate investor. His varied career is one of the reasons he made a gift to support professional development at GSAS.
"I like the idea of preparing students for life after graduate school and helping them get jobs," says James, who came to Harvard from rural Nebraska and now lives in Stamford, Connecticut.
His son Ralph James MBA '82 helped to coordinate their gift. An active volunteer and executive director for university affairs at Harvard Business School, Ralph understands how important donor support is to Harvard's future. Knowing his father's interest in giving back to the graduate school, he met with GSAS Dean Xiao-Li Meng to ask how they could best support the school.
"We give to places that we know well, where we trust the leadership and have a high degree of confidence in their ability to use their resources wisely," says Ralph.
Together, the family decided they wanted to help students in their third year who rely on professional development offerings to expand their horizons. These funds will give emerging scholars the freedom to explore areas of research or teaching they might not otherwise have the means to investigate. This kind of support strengthens not only the current student experience, but ensures that in the future GSAS remains competitive among its peer institutions.
"We want to help the Graduate School of Arts and Sciences continue to attract the very best students, many of whom are going to devote their lives to research, teaching, and higher education," says Robert.
They hope that their gift inspires others to invest in GSAS students and its leadership, having both been inspired by Dean Meng's vision.
"He's committed to making GSAS even better than it is," says Ralph. "One of his priorities is to renew connections with alumni, which is very important to the long-term strength of the institution."
The Jameses are proud to support and be a part of this wider community. "The Harvard network is really unparalleled," says Ralph. "An affiliation with Harvard means that you are connected with the best minds and a place that is oriented towards solving problems and really making a difference in the world."