Turning "Blue Sky" Ideas into Reality
Engineering Students Conduct Research That Matters
August 18, 2011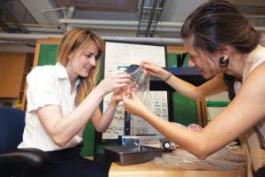 You've just come home from the grocery store with a cluster of plastic bags. Instead of throwing them out, you unload your purchases and head to the laundry room. After filling your washing machine with a load of soiled clothes, you toss in one of your bags and watch as the running water dissolves it into soapsuds.
This may sound futuristic, but bags-as-detergent are a real-time invention being developed by Harvard students and recent graduates. The concept grew out of a Faculty of Arts and Sciences (FAS) course last spring called Engineering Sciences 20: "How to Create Things and Have Them Matter," which encourages students to pursue innovative ideas in the arts, sciences, and engineering—especially to address global needs.
"Since plastic bags are one of the most common kinds of trash in oceans, and since they basically never degrade, this seems like a hugely important issue to tackle," says ES20 student Marika Shioiri-Clark, who received a master's in architecture in 2011.
Shioiri-Clark and others on her mostly undergraduate team continued their "T(w)o Use" project over the summer, trying to develop a prototype of nontoxic polyvinyl alcohol with embedded soap and to gauge whether consumers might use a grocery bag like this. "If nobody wants it," she reasons, "it doesn't matter."
ES20 is one of many offerings in Harvard's School of Engineering and Applied Sciences (SEAS) that feature hands-on learning, giving students a chance to conceive products and conduct both "scripted" and "unscripted" laboratory experiments. For example, students recently designed water purification systems, developed surgical tools for drilling into the skull, and used laser beams to transmit music across a room.
Harvard College is pursuing similar team-based opportunities across the curriculum, notes FAS Dean Michael D. Smith, John H. Finley, Jr. Professor of Engineering and Applied Sciences. "Numerous studies show that students retain material better when they are engaged with it, actively manipulating the concepts, and receiving quick feedback on whether they've understood the exercise," says Smith, a computer scientist. "Hands-on learning can provide all of these qualities."
Seed Ideas Take Root
The thinking behind Engineering Sciences 20 is simple yet lofty: "We focus on blue-sky design dreams at the frontiers of science," explains David A. Edwards, Gordon McKay Professor of the Practice of Biomedical Engineering, who has cotaught the course for a decade.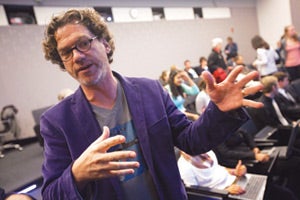 ES20 is the cornerstone class of The Laboratory at Harvard and its Idea Translation program, which Edwards founded to spur innovation and help bridge the arts and sciences. It does so through experiments, "Idea Nights," and exhibits in the Northwest Science Building. Breathable chocolate, batteries powered by soil microbes, and salt that stops the spread of infectious disease are among the inventions spawned by the program in recent years.
Each of the seven ES20 groups this past spring began with a seed idea around the theme of water as a threatened natural resource—say, the concept of an edible, waste-free water bottle—and set about defining a problem and envisioning solutions. Late-night brainstorming sessions were common as the teams untangled creative and technical knots.
Jaramillo and her teammates, Spencer Horne and Ken Liu, both Class of 2014, came up with a system that allows residents in the developing world to report urgent needs, such as broken water taps, through free text messages. Donors can provide the requested supplies and get feedback from the people they have helped. "We are excited about our idea," she says, "because it empowers communities to decide on their problems and work together to fix them with the help of donors." They have dubbed their project "Khanda," which means "to repair" in Zulu."This course was unlike any other I took at Harvard," recalls Laura Jaramillo '10-'11, a government concentrator from Pereira, Colombia, and Pforzheimer House. "It was almost completely unstructured, with a high emphasis on idea creation and teamwork. We engaged in a lot of exercises, from building structures with spaghetti and marshmallows to racing to construct the most exciting and sturdy roller coasters using plastic tubing."
The class draws students from many concentrations, such as economics, comparative literature, physics, and visual and environmental studies, and it "bets on their dreams" by enabling them to develop their "aspirational design" concepts beyond semester's end. This summer, Jaramillo and other ES20 partners conducted more research at the Idea Translation Lab in Cape Town, South Africa, and then planned to attend an idea translation workshop in Paris with peers from around the world. They're supported by the Harvard Global Health Institute, the Wyss Institute for Biologically Inspired Engineering, and Edwards's Artscience Labs.
"It's rejuvenating to work with students in this hopeful environment," says Edwards. "I hope they leave the class asking themselves: What matters? Why? This ability to decide what matters and why in challenging circumstances becomes the rare distinction of a leader. We are, in this sense, trying to educate tomorrow's leaders."
Team Training
Students in ES20 hope their work will help address global water pollution and shortage problems; in addition to Khanda and T(w)o Use, this year's projects included a system to capture water from desert air; a device that filters dirty water inside one's mouth; an inflatable boat for flood survivors; a web portal that enables artists to respond to current events such as tsunamis; and sponge-like mats loaded with seeds to limit soil erosion in arid regions.
This sense of purpose is critical, according to SEAS Lecturer Beth Altringer, who specializes in team dynamics and is coteaching with Edwards in spring 2012. But these students are also building essential teamwork skills such as defining roles, valuing other perspectives, and being flexible when things go wrong or friction occurs.
"Students are generally trained to excel as individuals," Altringer says. "Then they enter the world beyond, and it's almost never like that. It's kind of like training rowers on single machines and then sending them out to race together. There's so much to be learned from doing it together. The reality is that, today, teams create more knowledge than individuals, and we need to prepare our students for collaborative work."
Courses like ES20 also exemplify the balance of depth and breadth of learning needed for success, not only in science and engineering, but in any pursuit, says FAS Dean Smith.
"Having depth in a particular area of study is necessary to make a difference in the world, but it's not sufficient," Smith reflects. "The success of an engineering project requires understanding its economic and social impact on everyday life. You cannot launch a project if you can't communicate its value to your boss and financial supporters. You cannot sell a solution to the public if you can't convey its worth and position it against competitors. Our students need to learn fundamental facts, theories, and laws, but they also should understand how these fundamentals roll up into the world around us."
To learn more about these projects and meet some of the students involved, don't miss The Lab at Harvard's annual fall exhibition. It's free and open to the public, the evening of Sept. 23 at 52 Oxford St. For details, visit http://thelaboratory.harvard.edu/.
Choose Harvard today with a gift to the Harvard College Fund.
Aug 19, 2011

Why does cornstarch thicken gravy? What's going on when melted sugar browns? How does a molten chocolate cake stay gooey inside? Students in "Science and Cooking: From Haute Cuisine to Soft Matter Science" not only pose these questions but test them out in the lab and eat the results. Read More

Aug 18, 2011

During his six years as an Overseer, Michael F. Cronin '75, MBA '77 contributed to many memorable milestones at the University, including the appointment of Harvard's first woman president and the expansion of undergraduate financial aid. Read More

Aug 18, 2011

James L. McLean '83 will never forget the electronics course he took as an undergraduate in which the class built radios and listened for signals from the sky as part of the Search for Extraterrestrial Intelligence project. Read More