Summer Diaries: Tiffany Agard '15
Tiffany Agard '15
July 16, 2012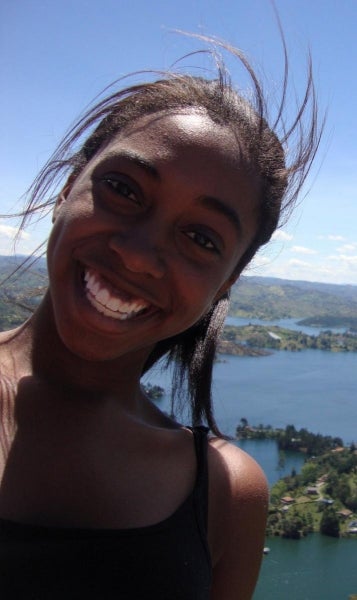 Hometown: Lilburn, Georgia
House: Mather
Destination: Santiago, Chile
Tiffany Agard is a Harvard sophomore who is deciding among government, economics, and social studies concentrations. The summer before her freshman year, she went to Medellín, Colombia, where she began to learn Spanish. There she also interned for the FIFA Under 20 World Cup, working in the VIP section of the stadium. During the school year, Tiffany serves as the arts and entertainment chair of the Black Students Association, as well as the freshman outreach coordinator for the Black Christian Fellowship. She also works as a tour guide for Trademark Tours.
July 2012
Santiago, Chile, is similar in most aspects to other big cities—except for the snow-capped Andes peeking out behind large, rolling green hills on the horizon. Therefore, exploring beyond the Vespucio highway that contains Santiago proper— similar to the 285 that serves as the perimeter of Atlanta, my hometown—has been a main goal this summer. For eight weeks, I will be iiving in Santiago through the David Rockefeller Center for Latin American Studies Summer Internship Program.
During the first two weeks of my internship at Technoserve, I was given slightly monotonous work scanning papers and revising Excel sheets while I waited patiently for an opportunity to experience what the company was really about. Technoserve is a nonprofit NGO that helps entrepreneurs in developing companies become competitive by developing business skills. The most important part of a Technoserve employee's job is done outside of the office when he or she visits aspiring entrepreneurs to do "asesorias" (coaching sessions).
While I was reviewing and scanning the transcripts of the asesorias during my first week, I took my time, fascinated by the growth of these companies. I finished my final scan after three days straight, gave myself a little dance break, and announced my completion to my boss, a young woman twenty-something years of age.
"Great, you should go with Mercedes to her asesorias on Monday," she said in her thick Uruguayan accent. I had to ask again to make sure I'd heard correct. Finally, I was off! I awoke bright and early to meet Mercedes at the train station at 7 a.m. We made it into the company car by 8:00 and set out for the long drive ahead.
We arrived at the first house, the home of RBRIONES—as I knew her from my Excel sheet—two hours later. Her quaint house at the end of a small two-lane road was situated behind the expansive greenhouse from which she made her living.
Technoserve had helped her grow her business from a small garden in her front yard into a self-sustaining source of income. She was now looking into being formally recognized and obtaining a business license.
I was quite impressed when I had read through her file, but now I could see what the numbers really meant—flowers, fertilizer, and smiles that made me appreciate the workd done in the first two weeks I had spent in the apartment-sized Santiago office.
After walking her through the necessary steps to apply for a license and figuring out a more efficient way to monitor her plant growth, we trudged through the mud from the previous day's rain back to the car.
Squishing mud sounds started coming my way and I whipped my head around to see her running toward us with a handful of small plants to take back with us. A young mint plant scents my room as I write.
Although I had brought my lunch, Mercedes, or Meche (as she was more affectionately known) hadn't, so we began the search for a place to get a quick bite, which turned out to be quite hard in rural Chile. We asked all around Nolgames, whose inhabitants I´m sure were quite surprised to see people other than their own townsfolk.
There was only one place, and they served only one dish: poroto. Poroto is a traditional Chilean soup made of beans, spaghetti, and chorizo (sausage). Everyone who walked in after us said "hello" to the owners and even to the other restaurant customers. This friendly greeting and ambience was not something I had experienced in Santiago, even in some of the smaller restaurants, and it reminded me so much of the southern hospitality that I missed from home.
The longer we stayed, the more I started to get a feel for what type of restaurant this was. I knew that the mechanics from across the street frequented it plenty by the way the pudgy poodles of the owners immediately jumped into their laps. I went to the back to go to the bathroom and saw a bed to my left. This was also their house. At that moment, I loved this quaint little store even more. The way the owners had integrated their life, living, and friendships into such a small place was wildly efficient in my opinion. We finished the large portion of poroto and were back on our way to another little town about two hours outside of Santiago.
Inevitably, as in every great travel story, we got lost. No one in the town had even heard of the street we were looking for. The map we had printed out didn't detail many of the little streets through which we were twisting and turning. I don't even remember when the paved road turned into dirt; I just looked up from the map and realized we were bumping along a combination of dirt and rocks.
After a few good guesses and some luck, we located the farm of our next meeting, tucked in a corner at the end of a long road. The sun that bounced off the snow-capped Andes lighted the flat, colorful farmland. The house, made of yellow adobe, is small yet bursting with character and an air of stability. I agree with Google Maps. This type of place shouldn't be on a map. Tucked away in its private corner, it retains all the beauty and natural elegance that I just don't know if the world is ready for yet.
Return to main story.