Summer Diaries: Shalini Pammal '13
Shalini Pammal '13
August 15, 2012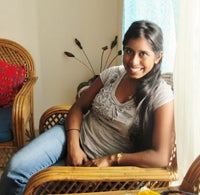 Hometown: Dix Hills, New York
House: Leverett
Destination: Bangalore, India
Shalini Pammal is a Harvard College senior who is concentrating in history and science with a secondary in global health and health policy. She has worked as an after-school program director with the Phillips Brooks House Association, a First-Year Urban Program leader, a Peer Advising Fellow, and an editor for the Harvard College Global Health Review. The past two summers have brought her to Bangalore, India, first as a research intern with the Harvard Global Health Institute, and presently through the South Asia Initiative for an internship and thesis research in the history of medicine.
July 2012
As a senior readying for the imminent arrival of my Harvard alumna life, I never would have imagined that the summer before my final undergraduate year would bring me back to primary school.
Every morning I wake up to pulsating sounds of tiny feet hastily running through the hostel corridors. My meals in the school canteen are preceded by a chorus of small voices belting a prayer of thanks for the food before them. The soundtrack to my afternoons is composed of jubilant screams, playground merriment, and bicycle training wheels scraping along the pavement. Every day, I am whisked back in time to the days of juice boxes and sand boxes, momentarily forgetting my 20-year-old life and its accompanying responsibilities.
This summer I am working with The Samhita Academy in Bangalore, India, as their first Education Management Intern. The Samhita Academy is unique in that it caters to children from upper-middle-class families, as well as those from economically deprived sectors of society for whom education has never been accessible.
My role is to support teachers in classroom management, while enhancing the quality and effectiveness of instruction. Additionally, I have been developing curriculum for a "life skills" course that teaches lessons on self-awareness, diversity, personal safety, and making choices. The school aims to cultivate an inclusive, nurturing environment that encourages innovation, individuality, and independence within each student—a rarity in the traditional system of Indian education.
Since my freshman year at Harvard, I have been intimately connected to youth education through the Phillips Brooks House Association (PBHA), where I currently serve as the community organizing chair. I began as director for the Southie After School program that provides academic tutoring and arts-based literacy education for elementary school students in South Boston. My belief in the need for social change as it affects youth education really took off in this role, where I worked to deliver high-quality programming that empowers youth through creative self-expression and community engagement. This experience is what initially drew me to The Samhita Academy.
In all my prior trips to India, I have never felt more like a citizen of the world than I do now.
The lasting impact I can make is verified by the twinkling eyes and beaming smiles that have magnetically pulled me further into this primary school world. These children have motivated me beyond my own expectation to push boundaries and find creative solutions to those palpable obstacles that may prevent them from reaching their highest potential.
Bolstered by my experiences at PBHA and Harvard, I am driven by those sights and interactions—the little hands eagerly waving my way and animated faces, shouting, "Hi, Shalini ma'am!" and "Look at the painting I made in school today!" This is what motivates me to contribute in even the smallest capacity toward the educational mission of this school, entirely devoted to building promising futures for children from all tiers of society.
In my first month working at the school, I have discovered my own inner child. In doing so, I have reconnected to a world of imagination, curiosity, possibility, and hope that will continue to guide my goals in India, at Harvard in my last semesters, and beyond.
Return to main story.