Summer Diaries: Nuseir Yassin '14
Nuseir Yassin '14
July 16, 2012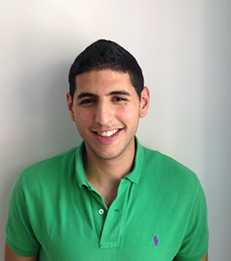 Hometown: Arraba, Israel
House: Mather
Destination: New York City, N.Y.
Nuseir Yassin is a junior at Harvard, where he concentrates in economics and takes computer science courses on the side. He was born and raised in Israel as a Palestinian citizen of Israel. At Harvard, Nuseir spends most of his free time working with Harvard Student Agencies, filling several positions from stock management at The Harvard Shop to assisting the accountant at the business office.
July 2012
For the first time ever, I am writing to a group of such diverse people that I don't know how to approach you all in one style of writing. For all I know, 80-year-old and 21-year-old alumni could be reading this in places ranging from Texas to Hong Kong. I hope to provide a clear insight into what we're doing this summer: trying to build a startup.
Two days after finishing finals, we packed our dorms and headed straight to New York City to start work. Earlier that month, my team and I were admitted into a startup incubator called DreamIt Ventures. DreamIt provides funding, office space, and legal and accounting mentorship to early-stage startups with two to four founders.
We were lucky enough to be selected as part of the new DreamIt Israel program in which they select five Israeli startups along with 10 others from all around the world.
Now that we have a roof, some money to live on, and good mentorship, we "kinda" have to build something in three months that will not flop. After all, the default state of any startup is failure. Our job is to work around that. Given that our product is in an evolving process until we find a "product-market fit," it's hard to predict what the final version will look like or even do.
For now, the overarching vision is to build a product that would allow anyone to be a "recruiter," or as we like to call it, a "connector," for his friends and social network members. We are calling our startup Branch.ly.
The idea is, you know many people at college, back home, or in your everyday life that the online world doesn't know about. Your friends could be looking for jobs that suit them, but their LinkedIn or Facebook profiles don't reflect that. In addition, you have amassed such a large online network (Facebook friends, Twitter followers, LinkedIn connections) that it's now easier than ever to leverage that online resource.
Branch.ly wants to help you answer the question, "Do you know someone that…" more efficiently by giving you recommendations based on your different social networks. Essentially, we want to make every user a better connector of friends and opportunities.
The product is evolving, but the team remains the same. There's me, my co-founder Peregrine Badger—who is a rising sophomore at Harvard and a professional fencer (Olympic style)—and Fernando Irias, our third developer, from Honduras.
As a team, we're stepping outside of our college comfort zone into the bustling city of New York. For a start, we're living in Harlem. We're mostly cooking or eating from street vendors (thank God for $1 NY pizza and $5 food-carts). And we're working crazy hours so that we can fail as many times as possible in three months until we find that famed "product-market fit."
Aside from not having unlimited food or a social life as we did at college, we are in the process of forming a legal entity, raising angel funding to sustain us once the summer ends and, most importantly, building a product that people want. It is definitely stressful, time-consuming, and frustrating, but above all, it's one long ride that we're enjoying.
If you have read this far, then there's something wrong. One thing we keep hearing in startups is that "people don't read." For now, check us out at Branch.ly, give us feedback, and connect with us. We'd love to meet new people with fresh perspectives. Our entire team is a Google search away.
Return to main story.