Lifetime Achievement: HSPH Alumna/Professor Celebrates 60-Year Connection to Harvard
June 1, 2011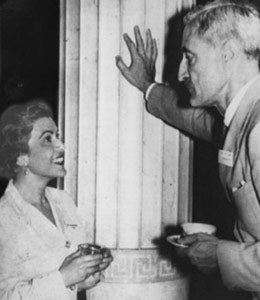 "There are two important things in my life," said Isabelle Valadian MPH '53, "my parents and my life at the Harvard School of Public Health [HSPH]." To honor both, Isa (as she prefers to be called) established a series of gift annuities in support of financial aid at HSPH as part of the Gohar and Valad Valadian Fund, named in memory of her mother and father.
Although, as with typical annuities, Isa could continue to receive income for the rest of her life, she recently made the choice to give up her income from the annuities so that the fellowship could be activated during her lifetime. She noted, "When I made the gifts, there was one thing that made me sad: I would not be able to see them realized, but when I found out that I could activate the gifts if I gave up my annuity income, I did not hesitate."
Isa's more than 60-year career at Harvard began in 1949 when she arrived in Boston from Beirut, Lebanon, for a pediatric fellowship at Harvard Medical School. Though originally from Georgia, she grew up and attended schools in Iran (then known as Persia), Lebanon, and France, receiving a medical degree from the French University in Beirut.
She then went on to a fellowship in pediatrics at the University of Paris Faculty of Medicine before making the journey to Boston. After securing visas for herself and her parents, she moved with her family to the United States and pursued her interest in public health at HSPH.
"I remember Dr. Stuart with great respect and affection; not only was he a visionary in pediatrics, but he also was a kind and remarkable man."
At the request of her mentor Harold C. Stuart, who served as a professor of maternal and child health and head of the Department of Maternal and Child Health at HSPH, she joined the faculty after graduating and embarked on a passionate career as a valued member of HSPH's Department of Maternal and Child Health.
She became a full professor and then chair of the department, celebrated for her "open door" policy with students and her dedication to teaching. In addition to her work in the classroom, Isa joined Professor Stuart (and eventually led the project after his retirement) in his longitudinal research of child health and development, which has been described as a classic study of human growth and development. After her "official" retirement in 1991, she continued to teach, conduct research, and lecture; she remains an active member of the HSPH community and still attends events at the School.
For Isa, giving back to HSPH seemed like a natural extension of her long relationship with the School as well as a way of cherishing the memory of her parents, who, as firm believers in the importance of education, were instrumental in cultivating her love of learning. "My parents inspired me to study hard, work hard, and do my best," said Isa. "I wanted to do something for my parents and for the School where I spent so much of my life, so I decided to establish a fellowship." Her gift for financial aid allows her to coalesce the different moments of her past while helping HSPH prepare for the future.