I Choose Harvard: Jeannie Bachelor Lavine '88, MBA '92
Jeannie Bachelor Lavine '88, MBA '92
February 15, 2013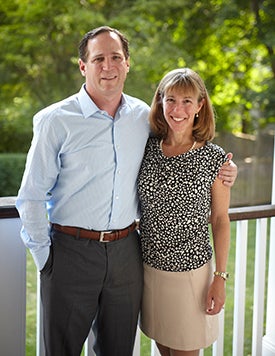 After graduating from Harvard with significant debt, Herbert Bachelor '66, MBA '68 began saving for his children's college education. Now his daughter Jeannie Bachelor Lavine '88, MBA '92 and her husband, Jonathan Lavine MBA '92, are helping ease the financial burden for others. In 2011, the couple established the Lavine Family Cornerstone Scholarship Fund, which will support four undergraduates.
"It's a privilege to give deserving students a chance to attend Harvard," Jeannie says. "Intelligence is not distributed by income, and we want others to have the same opportunities we had. We're proud to support Harvard's financial aid program." The Lavines also made a significant immediate-use gift to advance University priorities and have established a humanitarian studies initiative at the Harvard School of Public Health.
As an undergraduate, Jeannie lived in Quincy House and concentrated in economics, thanks to inspiring teaching and mentoring by Lawrence "Larry" Lindsey PhD '85, a graduate student who went on to leadership roles in government, academia, and business. She acted, belonged to Harvard Hillel, and enjoyed traveling with the Radcliffe Choral Society. After business school—where the Lavines met—and work with The Boston Consulting Group, she has been home raising the couple's two daughters.
Jonathan is managing partner and chief investment officer of Sankaty Advisors, an affiliate of Bain Capital. He represents the family on several boards, including Children's Hospital Trust, City Year, Dana-Farber Cancer Institute, Horizons for Homeless Children, and Stand for Children. Jonathan is also a trustee of Columbia University and the Dana Hall School.
At Harvard, Jeannie is active with her upcoming 25th reunion and she shares her expertise at the Faculty of Arts and Sciences and University levels. "Being involved is another way of giving back to this institution that means so much to us," she says, "and of encouraging others to do the same."  
Feb 15, 2013

Doug Crocker '62 and his wife, Cindy, believe that education is the gateway to opportunity—and that helping open those gates is essential. Read More

Feb 15, 2013

Since graduating from Harvard, Ab Gupta '04 has lived in five cities, launched an investment office in Mumbai, earned two advanced degrees, and served as CEO of a 200-person company. The constant during that change-filled time? His Harvard College ties. Read More

Feb 15, 2013

Harvard's financial aid program changes the lives of exceptionally talented students from all economic background and empowers them to change the world. Read More