HDS Honors Alumnus and Businessman Thomas M. Chappell
Chappell, MTS '91 and Tom's of Maine Cofounder, Received Dean's Distinguished Service Award
April 23, 2010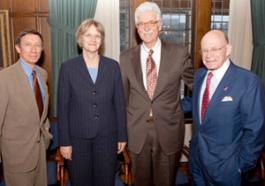 Harvard Divinity School (HDS) has announced that alumnus Thomas M. Chappell received the Dean's Distinguished Service Award on Thursday, April 8, 2010, during the annual meeting of the School's Leadership Council.
A 1991 graduate of the School, Chappell is the cofounder of Tom's of Maine, one of the nation's leading manufacturers of natural personal care products. William A. Graham, Dean of the Divinity School, presented the award to him.
"Thomas Chappell is a socially conscious entrepreneur, environmentalist, and philanthropist; influential author; and devoted family man," said Dean Graham, who is also John Lord O'Brian Professor of Divinity at HDS and Murray A. Albertson Professor of Middle Eastern Studies in the Faculty of Arts and Sciences (FAS) at Harvard. "He has returned faithfully to Harvard Divinity School, serving as a role model for our community and helping to advance our educational mission. He promotes learning that transforms how students approach life—those at HDS and in society at large—and transforms the many lives these students touch."
Drew Gilpin Faust, President of Harvard University and Lincoln Professor of History, also spoke at the event.
"Tom Chappell reminds us of an important dimension of the Divinity School; that it's not just about values or what you think or believe, but about what you do and how you turn those values into action. This focus is especially timely for a University that is emphasizing public service and thinking about how we can all, in our varied ways, use our knowledge and our understanding to make a better world," she said. "The Divinity School is at the center of this pursuit, sending students and faculty into communities as educators, as religious leaders, as workers in the vineyard of helping other people and helping societies to be better places."
The Dean's Distinguished Service Award was established in 2007 to recognize outstanding volunteer service to and support for HDS. The award is presented each year at the annual meeting of the Leadership Council or at another appropriate gathering of School volunteers and donors. Awards are made by the Dean in consultation with the School's associate deans, faculty, students, staff, and other key volunteer leaders.
In 1970 Chappell and his wife, Kate, founded Tom's of Maine, which went on to introduce several environmentally friendly products, including the first nonphosphate liquid laundry detergent and the first natural toothpaste. The company's legacy—a belief that a business can be environmentally sensitive, socially responsible, and profitable—lives on under Tom's of Maine's new owners, Colgate-Palmolive Company, as well as in the Chappells' most recent business venture, Ramblers Way Farm, a superfine, sustainable, American worsted wool apparel company. Chappell has had a lifelong interest in the responsibility of the corporation to society.
After earning his master of theological studies degree in 1991 from HDS, he established the Saltwater Institute, a nonprofit organization offering values-centered leadership development programs. He also shared his insights in two books, The Soul of a Business: Managing for Profit and the Common Good (Bantam Books, 1993) and Managing Upside Down: The Seven Intentions of Values-Centered Leadership (W. Morrow, 1999).
In 2006, he established the Richard Reinhold Niebuhr Professorship of Divinity at HDS to honor one of the School's great faculty members, while also ensuring that henceforward a leading scholar will guide students in meaningful reflection on issues of contemporary Christian morality, ethics, and values in a religiously diverse world.
The professorship, currently held by renowned scholar Mark D. Jordan, was recently celebrated at the Divinity School on April 7 with Professor Jordan's lecture, "Missing Scenes of Christian Ethics," which focused on the forms that Christian ethics has taken and might yet take in engaging the societies around it. (View the lecture online.)
Commenting about the impact of his HDS education, Chappell has said, "Fulfillment is now more important to me than achievement, community is more empowering than organization, and visions of absolute values are more compelling to human purpose than material hopes."
Chappell has received many awards for his work, including CNBC's Entrepreneur of the Year award and a Corporate Conscience Award from the Council on Economic Priorities. He is a member of the HDS Dean's Council and received the HDS First Decade Award in 1995.