Harvard's New Rhodes Scholars
December 18, 2012
Six American Harvard Students Win Rhodes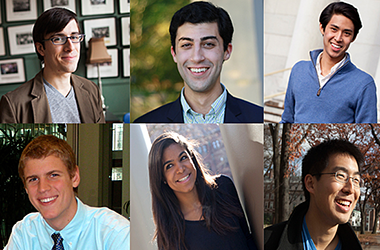 The six Harvard seniors study widely diverse fields, including computer science, Chinese studies, human migration, economic development, global health science, and math and science education. What they have in common is that they're all incoming Rhodes Scholars.
They were named Sunday as recipients of the prestigious academic awards, among only 32 scholars selected nationally. Aidan C. de B. Daly, Julian B. Gewirtz, Allan J. Hsiao, Benjamin B.H. Wilcox, Nina M. Yancy, and Phillip Z. Yao, all members of the Class of 2013, will receive scholarships that cover the cost of two or three years' study at the University of Oxford.
True local bragging rights, however, may belong to Harvard's Quincy House, and more specifically to its sixth floor. Four of the six — Daly, Gewirtz, Wilcox, and Yancy — reside on that floor. Wilcox and Gewirtz are even roommates.
For short bios of each student please see the full Gazette article.
Three Win International Rhodes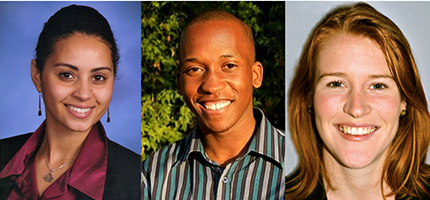 Harvard senior and two recent alumnae — one the sister of a 2004 winner — have been named international Rhodes Scholars, and will join the six American Harvard students who will head to the University of Oxford next fall.
The award, one of the most prestigious in academia, each year recognizes 83 scholars for their scholastic achievement, personal integrity, leadership potential, and physical vigor. Created more than a century ago by the will of British philanthropist Cecil Rhodes, the scholarships cover all costs for two or three years of study at Oxford.
For more information about the recipients please see the full Gazette article.