Harvard Club of Beijing Announces Scholarship Winners
July 9, 2013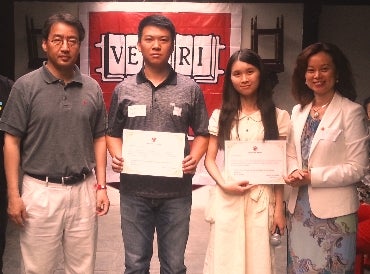 The Harvard Club of Beijing (HCB) Executive Board has announced that the Harvard HCB Scholarships for 2013-2014 have been awarded to Mr. Zhaoheng Gong, PhD candidate at the Harvard Graduate School of Arts and Sciences and Ms. Wenling Li, MLA candidate at the Harvard Graduate School of Design.
Mr. Zhaoheng Gong is a Peking University graduate and PhD candidate in Environmental Science and Engineering at the Harvard Graduate School of Arts and Sciences. Mr. Gong has a strong passion for scientific research in the field of atmospheric chemistry, and has devoted the past four years into revealing the complex relationship between anthropogenic activities and the earth's atmosphere. His current research is focused on the evolution mechanisms of atmospheric particulate matter pollutants. In the future, he would like to become a scientist and further his research in the field of atmospheric environmental science in China.
Ms. Wenling Li is a graduate of Tsinghua University and is pursuing her Masters in Landscape Architecture at the Harvard Graduate School of Design. Ms. Li is a member of China's ethnic minority group Dong and grew up in the mountains of Guangxi Province before spending 7 years in Beijing while studying at Tsinghua. Her experiences have led her to develop a keen interest in city development and the environment. She plans to explore the multiple ways that landscapes positively contribute to the complexities of the contemporary city, a more equitable distribution of ecological and environmental resources to create a better future for the world.
Established in 2010, the annual HCB scholarship is awarded to two graduate students every year who have been accepted to study at Harvard. The HCB scholarships are intended to advance Harvard University's mission to inspire and foster the future generation of global leaders. The Club encourages beneficiaries to contribute to the fund once they become financially independent in order to help support future scholarship winners. The scholarship has been awarded to 7 students since its inception.
For more information, please visit the Club's website: http://beijingharvardclub.com