Exploring Possibilities
Baltazar "Zar" Zavala '11
March 9, 2011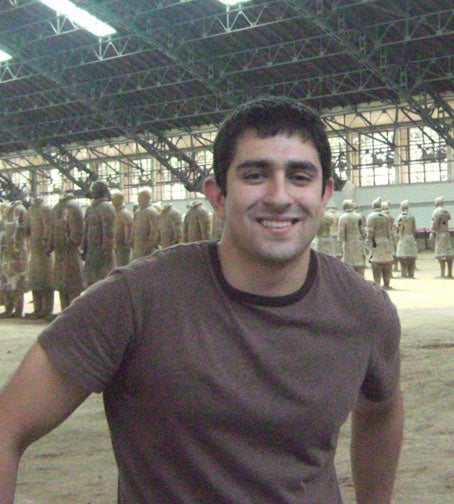 Hometown: El Paso, Texas
House affiliation: Kirkland House
Joint concentration: Biomedical
Engineering and Neurobiology
Why did you want to come to Harvard?
I am from El Paso, Texas, where not many people ever even dream of coming to Harvard. When I was a junior in high school, a Harvard representative came to my high school and spoke to my class about Harvard's new financial aid initiative. My single mother had spent most of my high school years searching for a job, so, needless to say, I definitely qualified. Harvard had always been a dream for me, but it was at this moment that Harvard became a reality. I applied early action, and, once I was accepted in December, I made my decision to attend.
What has your Harvard experience been like?
It has been absolutely amazing. I always tell people that the two things that make Harvard different from any other university are the people and the opportunities to pursue your passions. Only at Harvard would I have the opportunity to spend my summers in China and the Dominican Republic taking on projects with some of the smartest students in the world and my semesters taking classes and doing research with some of the best professors in the world.
What did you do on some of these travels?
My summer abroad in China was spent taking courses and working in a lab at Fudan University through Harvard's summer abroad program. The funding to go came from the Rockefeller grant. I basically learned most of the techniques that I use in my research now and also got to travel around the country.
The three Dominican Republic trips I went on were all forEngineers Without Borders (EWB). During the first one, we dug a well using very affordable, locally available materials; on the second trip, we conducted surveys and tested water around the community; and, for the third trip, I gave presentations at schools and churches about ways people can clean their water.
What are some of your favorite memories about Harvard?
My favorite memories at Harvard are probably the memories I formed as a member of the varsity football team. Winning back-to-back Ivy championships was one of the greatest experiences of my life, but, more important, the memories we formed while training during the cold Cambridge winters and the humid summers will be the memories I will cherish most when I think back to my experience at Harvard.
What's surprised you the most about Harvard?
Being able to travel and see the world was something that I never thought I would be able to do during college. I was extremely surprised by the accessibility of these opportunities to all students at Harvard and how much time and effort go into making Harvard's study abroad programs a perfect experience.
What's been one of the most interesting things you've learned?
My experience with Engineers Without Borders taught me so many things about doing developmental work and about myself. I now know how to dig a well using PVC, pipe, and mud. More important, I know the impact individuals can have when they work together with local communities to make the world a better place.
In the classroom, learning how much we as a human species know about our nervous system was absolutely breathtaking. My neurobiology courses not only got me excited to go to class, they inspired me to conduct my own research on the nervous system.
Now, I am studying a specific type of neuron in a part of the brain that is thought to control awareness states. More specifically, I am studying how these neurons communicate with one another and how these communications can be changed in a way that would lead to a change in awareness states, such as being awake or in deep sleep.
How has financial aid impacted your experience at Harvard?
The impact of Harvard's financial aid on my life is very simple: without it, I would not have been able to come. Without Harvard financial aid, I would have never been able to play football, I would have never been able to work in China and the Dominican Republic, and I would have never become a Rhodes Scholar. My life would be headed in a completely different direction.
What are your future plans after Harvard?
I will be working toward a PhD in clinical neurology during my next few years at Oxford, after which I will attend medical school.
Read more about why Lori and Ted Samuels give or about Amanda Morejon's experience and share your story about Harvard: What was your own experience like?