Exploring Harvard: Part Two
Peter O'Connell '03
November 9, 2010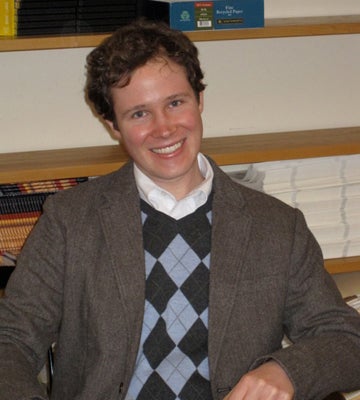 House Affiliation: Winthrop House
Area of study: Classics
Hometown: Flushing, New York
By the end of October, most freshmen have received grades on their first Harvard exams and papers. Some of them are pleased, some are disappointed. Midsemester advising meetings are an opportunity to take stock of these grades. Often, advisers merely offer congratulations for work done well. Sometimes, freshmen and advisers work together to develop strategies for improvement, which can range from new ways to study to simply getting an extra hour of sleep every night. These individual meetings are the heart of the relationship between advisers and our students.
This relationship, of course, is primarily an academic one. Academics include more than class selection and study skills, however. Everything from roommates to athletic practice to club meetings to article deadlines can affect freshmen's performance in their classes. As an adviser, I try to be ready for anything. One student may want to talk about a thrilling discovery their chemistry lab made, another about balancing class work with a term-time job, another about favorite study spots in Widener. Often, students are just looking for a sympathetic ear. Whether we're talking about an exam or the pressures of playing varsity hockey, I try to be supportive, comforting, and reassuring. I'm on their side and I want them to know that.
There is no typical adviser-student relationship, and that's what makes being a freshman adviser such a special job. Students are entitled to the best advice possible, and I work hard to adjust myself to their expectations. But some of the best moments of being a freshman adviser are the ones you can't prepare for. A student may knock on your door late at night to grouse about an Expos paper, and you wind up talking about their changing career goals. A spontaneous meal in Annenberg may lead to a long discussion of Jane Austen, Phillips Brooks House Association programs, and Disney movies. Being an adviser is never boring!
I try to model myself after the best advisers I've had. All good advisers are different, but they all make their students a top priority. If my students need my assistance or advice, I want them to know that I'm available and that I'll do whatever I can to help them. This simple rule, in my opinion, is the most important part of the adviser-student relationship.
There are many perks, of course, to being a freshman adviser—from tickets to performances and sporting events to the inspiring company of new Harvard students at Sunday brunches and study breaks. Perhaps the best thing about being a freshman adviser, however, is running into sophomores, juniors, seniors, and alumni, hearing their success stories, and thinking how privileged I am to have known them as freshmen.
Read why Peter has served as a proctor for six years here.
What do you remember about the people you knew at Harvard? Who gave you the best advice? Post a comment below. And to support the student experience at Harvard, click on Make a Gift.