Engineering with a Liberal Arts Twist
Harvard's School of Engineering and Applied Sciences spurs innovation, solves problems
September 28, 2012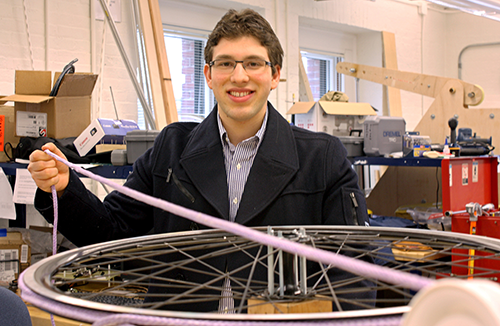 As a Harvard undergraduate, William Marks '13 has helped a master chef from Barcelona perfect his recipe for chocolate mousse, developed technology for shoe shopping, analyzed the geothermal wells serving Radcliffe Yard, and designed a medical device to prevent tissue damage during kidney dialysis.
Marks, a biomedical engineering concentrator from Miami, has also spent time on decidedly different activities, from late-night conversations with friends in Mather House to compiling statistics for the varsity football team.
"Harvard has been fantastic because I get to study engineering but also take advantage of an environment with so many resources and so much to learn from my professors and peers," says the energetic Marks, who is also pursuing a secondary field in computer science and a master's degree in engineering sciences.
Marks is one of nearly 600 undergraduate concentrators and 400 graduate students in Harvard's School of Engineering and Applied Sciences (SEAS), a small but dynamic program, rooted in the liberal arts tradition, that aims to create twenty-first-century engineers with a broad knowledge of other disciplines across the sciences, social sciences, arts, and humanities.
"We're open to everyone," says SEAS Dean Cherry A. Murray, the MIT-trained applied physicist who has led the School since 2009. "More than 5,000 students from across Harvard, especially the College and Graduate School of Arts and Sciences, take our courses each year.
"They're learning how to tap technology to address the world's pressing needs, from feeding a growing population to developing sustainable energy to managing network privacy. Engineering is essential for helping solve these problems."
Engineering and applied sciences at Harvard date back to 1847, with the founding of the Lawrence Scientific School. That program became a division of the Faculty of Arts and Sciences (FAS) and in 2007 was elevated to Harvard's newest school in light of engineering's growing importance. SEAS remains part of the FAS, which admits undergraduate and graduate students studying the field.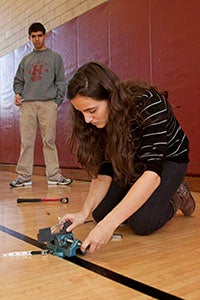 The interdisciplinary nature of engineering finds SEAS faculty and students connecting regularly across Harvard departments and professional schools through joint courses and research efforts. They collaborate, for instance, with clinicians to devise new medical equipment, work with lawyers on technology policy, and help ensure access to safe drinking water with public health faculty. Recently, SEAS and other FAS scholars flew around the world to measure some 80 atmospheric gases and particles that affect the Earth's climate.
"SEAS is a catalyst for innovation at Harvard, bringing together faculty and energizing their collaborations with an engineer's focus on solving problems," says FAS Dean Michael D. Smith, a computer scientist and John H. Finley, Jr. Professor of Engineering and Applied Sciences. "The hallways, labs, and common spaces at SEAS seem to pulse with new ideas, from robotic insects to super-flat optical lenses."
"What sets Harvard's approach apart," Smith notes, "is our insistence on the importance of engineering as part of a liberal arts education. As a result, all Harvard College students have a more nuanced understanding of, and comfort with, technology. And importantly, budding engineers have the human context for evaluating or developing solutions."
What's New
This fall, SEAS added two new undergraduate concentrations—electrical engineering and mechanical engineering—to its offerings in applied mathematics, biomedical engineering, computer science, and engineering sciences. On the graduate side, SEAS recently introduced a master's program in the burgeoning field of computational science and engineering, which aims to understand "big data" questions in science and medicine.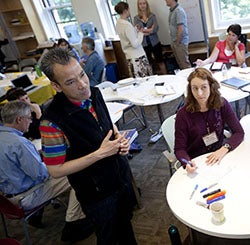 Under Dean Murray's leadership, opportunities for students to design, build, and showcase their inventions have also increased. About two-thirds of engineering courses now have a hands-on and/or design component, and there are more spaces for students to explore and learn—such as a cutting-edge culinary lab that complements the popular Science and Cooking course, and Pierce 301, a flexible classroom that encourages teamwork through movable tables and whiteboards, and that will be renamed the Connaughton Room to recognize a gift from Stephanie Connaughton '87.
Entrepreneurial students have resources for their "next best thing" ideas, including the Harvard Innovation Lab (i-Lab) in Allston and design competitions such as the Harvard College Innovation (I3) Challenge. Student start-up companies are becoming more common, like the one Marks hopes to launch, with Harvard colleagues, that's based on their award-winning digital approach to finding shoes that fit.
One of Marks's favorite classes was Medical Device Design, which took him to Brigham and Women's Hospital to learn about a vexing problem in kidney dialysis. Sometimes the tube (or "graft") implanted in a patient's arm for circulating blood around the body "steals" blood from the hand, causing pain and possible tissue damage.
"We designed a small device that sits on the graft and allows the doctor to control how much blood goes to the hand," Marks explains. "That's one of the coolest course-related projects I've done here."
Their work led to a paper, published in the Journal of Medical Devices in June 2012, which Marks co-authored with surgeon C. Keith Ozaki and several SEAS collaborators, including Brandon Hopkins '11.
Pumped Up
What excites Kayla Shelton '13 about SEAS is the exposure to many branches of engineering, from mechanical to electrical to environmental and beyond. "Every semester, you're doing something new and different," says the engineering concentrator from Detroit and Winthrop House. Last January, she took part in a new Brazil field study program, supported by Harvard's David Rockefeller Center for Latin American Studies, which focuses on energy, water, and the environment. The American and Brazilian students visited water-treatment facilities, research centers, and flood barriers in several U.S. states; next January, they will study in Brazil.
"I learned about the effects of natural disasters, like the flooding of the Mississippi River and Hurricane Katrina, and how engineering and innovation can help," Shelton says.
Attending Harvard has fueled Shelton's love for engineering while leaving room for other academic and extracurricular pursuits. She notes an unforgettable General Education class on Porgy and Bess, as its director—who co-taught the course—was reimagining the folk opera for performances at Harvard's American Repertory Theater and then Broadway. Recalls Shelton, "I could be as pumped up about multivariable calculus as I was about the Porgy and Bess class. There's so much hope and innovation around you at Harvard that it permeates everything you do."
---
Forward Thinking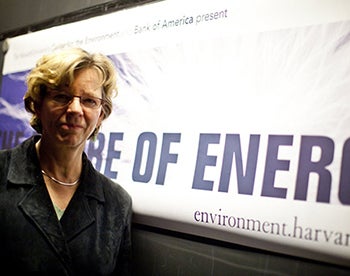 Since joining Harvard in 2009 after years in industry, SEAS Dean Cherry A. Murray, the John A. and Elizabeth S. Armstrong Professor of Engineering and Applied Sciences, has infused the School with her passion for innovation, teamwork, and making a global difference. Engineering, she says, "is an incredibly creative process that is both practical and visionary." We asked Murray to picture SEAS in 10 years, and she imagines…
• Open design studios so we can see engineering everywhere.
• Every Harvard College student taking at least one engineering course.
• A SEAS faculty that has grown substantially, especially in bioengineering and translational life sciences, energy and the environment, and computational science.
• More flexible classrooms, labs, and graduate student space to accommodate that growth.
• A school that continues producing well-rounded global citizens who appreciate the complexity of issues and can explain why something matters.
---
Choose Harvard today with a gift to the Harvard College Fund.
Sep 28, 2012

Our planet needs more engineers, and Harvard is poised to train them, Larry Lebowitz '82, MBA '88, believes. Read More

Sep 28, 2012

As a private equity investor, Asami Ishimaru '79, MBA '83 is always on the lookout for emerging companies that use innovative technology to solve problems. Read More

Sep 28, 2012

During her years at the Gillette Company, Stephanie (Formica) Connaughton '87 learned what it takes to innovate: creativity, teamwork, flexible space, and pipe cleaners. Read More