Early Introductions
Molly and Steve Cashin P'18
November 16, 2016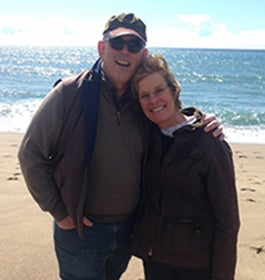 Molly Cashin P'18 recalls that her youngest son Ben—like so many incoming freshmen—wasn't sure how his first days at Harvard would go. A friend of hers who had several children at Harvard suggested that Ben participate in the First-Year Orientation Program (FOP), which offers popular wilderness trips to foster a sense of community among the College's newest students.
"That suggestion made all the difference. FOP empowered him to take Harvard by storm," says Cashin. "He's loved the friends he's met, the relationships he's developed with advisors, and the discovery of nearby mountains and trails. Wanting to help others have a positive Harvard start, he is now a FOP leader and runs groups for incoming freshmen."
For Molly and her husband, Steve, another early introduction made all the difference in their College experience. Though they had Harvard connections on both sides of the family tree, they were newcomers to the school as parents. This changed when they got a call from a Parents Committee volunteer based in Washington, D.C., where the Cashin family lives.
"I am still blown away by her welcome and offer of friendship. The beginning days really matter, and her gesture speaks to the inclusive nature of Harvard's character," says Cashin.
The Cashins soon met other Harvard parents at a regional event and became active members themselves. "Harvard really is a larger community beyond the students," says Cashin.
Learning more about this community inspired them to support the College philanthropically. "Our giving is an expression of confidence in the leadership at Harvard. We believe the deans work overtime to make the community as inclusive and as embracing as possible," says Cashin. The College's emphasis on the undergraduate experience appeals to the Cashins, who strongly believe that character formation and a commitment to giving back should be a prerequisite for all college graduates. "Harvard leaders remind our students that they have great hopes and aspirations pinned on them and that they need to contribute to the public good," says Cashin.
The couple has made several gifts to the Dean's Leadership Fund to support student development. "Harvard should have discretionary resources to respond to needs, such as scholarships, tutoring seminars, the Houses, advising, or the sports programs," says Cashin. "These resources fund both long-term planning and the ability to respond immediately to the exciting opportunities at Harvard, ensuring all of our children receive the best undergraduate experience this country can offer."
The Cashins see their activities within the Parents Committee as a way to be a part of their child's journey, develop their own relationship with the institution, and help influence its future.
"Harvard has a lot to offer parents," she says. She and her husband look forward to the rest of Ben's time at Harvard and to continuing their work with the Harvard College Fund Parents Committee, now as the ones extending a welcome to newcomers. Says Molly, ""It's been such a foundation for friendships."