Digital Harvard: Joseph Ong '14
Gaining perspective off-campus
March 19, 2013
Joseph Ong '14
Eliot House & Houston, TX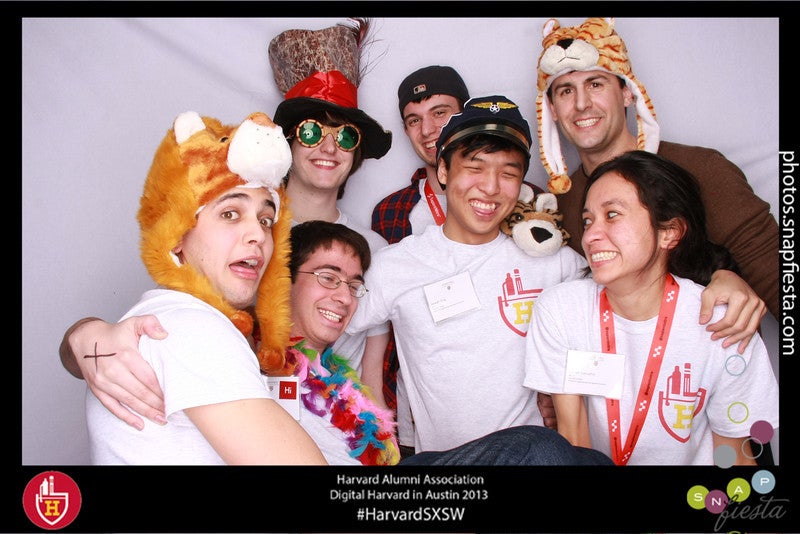 Joseph Ong '14 (fifth from left) and fellow SEAS students & teaching staff in the photo booth at Digital Harvard in Austin 2013.
I grew up in Texas, so going to Austin for South by Southwest felt a little like visiting home, even though I'm actually from Houston (everyone nevertheless assumed I knew my way around Austin and relied on me for eats and directions … thank you Ness, Google Maps, and fellow photography geek and Austinite Patrick Lu for helping me keep up that façade). To boot, everything seemed like it was coming full circle, since I was going back to talk to people about work I'd done with Hack Harvard, CS50x, and the Harvard Innovation Lab, organizations related to the areas of teaching and technology I first started to develop passions for going to school in Texas.
So, one 5:45 a.m. plane ride, 10 overzealous tweets, 15 Instagram photos, and a few annoyed followers later, we finally arrived in the Lone Star State.
With a full day of convention programming ahead of us, we zipped right ahead to registration after leaving our bags in our rooms. If you haven't been to SXSW Interactive, it's pretty amazing. There was a huge variety of programming—talks on the future of space exploration, demos of cool products like LeapMotion, decked-out gaming conventions hosted by Nintendo, and even a wickedly funny seminar on how Muppets relate to UX and design. Incredible energy, too—keynotes were packed to the point that some people just set up shop on the floor of the exhibition hall.
But what does this have to do with Harvard and SEAS ? Interestingly, having a full day to explore the sessions beforehand gave me a ton of perspective when it came to talking to Harvard alumni at the Digital Harvard in Austin event—after all, we're all here to see what the future of technology holds. There's no better ingredient (besides a couple of [nonalcoholic] drinks at the cozy Icenhauer's) than a full day's worth of fresh knowledge on recent tech culture for making fantastic conversation.
For example, one interesting conversation I had with a recent grad centered around how CS50x could better incentivize and motivate students to learn, a question we've tackled by trying to make our course tools as slick and usable as possible; however, with online learning, getting people to continually learn, and not give up halfway out of boredom, is a hard task that deals with far more than usability. After showing a couple of photos I took at the gaming convention the day before, we started to talk about the lessons we could learn and apply from the content and design of video games: "Look at how engrossed those kids are. Good games are nontrivially difficult, yet kids play them on end for hours at a time. How can we make education and learning just as addictive?"
Other conversations I had with other graduates explored the use of technology in K-12 public education. One man was extremely excited about the new availability of awesome content like CS50′s for high schoolers interested in computer science, many of whom see nothing beyond the rudimentary programming skills introduced by APCS. Another talked about software he'd seen used to centralize well-curated content of the best high school teachers in the state, so that newer teachers could look at, and learn from the pedagogy of their more experienced peers – a solution to a problem that I, having gone to a competitive public high school with fantastic teachers, had completely taken for granted. Another graduate was even interested in ways to port the idea of Hack Harvard to high schools, allowing students to explore practical topics from software engineering that are virtually omitted from K-12 curricula today.
And, of course, people weren't just there to talk to us (to be honest, I'm pretty sure I'd get boring to talk to after a while, so no offense taken!), but to catch up with former colleagues and old friends on what's been going on in each other's lives since graduation.
SXSW was a blast. Having the opportunity to come out here to talk to people about what's going on back at the College, and see just how many people, Harvard or not, have been inspired and affected by the work we've done was really rewarding – some random guy at SXSW even ran up to Robert Bowden as we were walking around and gushed about how Rob was the guy "who is in all the CS50x videos", and we even found a random "CS50″ sticky note at one of the convention exhibits!
Well, goodbye until next time, Austin! For now, we'll just have to deal with the immense lack of BBQ up north. :). Peace out. #harvardsxsw.