CS50 Fair 2012
The School of Engineering and Applied Sciences largest course invites the campus community in for a new reading period tradition.
December 12, 2012
The first clues are the colorful balloons that catch the eye from the paths crisscrossing in front of the Peabody Museum. The frantic music hits with the opening of the glass doors of the Northwest Science Building – getting warmer. A bouncy blue stress ball bounces over from the stairway to the ground floor. Bingo. Welcome to the CS50 Fair.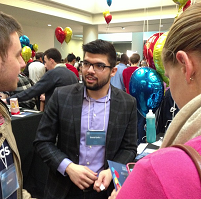 The CS50 Fair has evolved into a reading period tradition for faculty, staff, alums and students not enrolled in the introductory Computer Science Course. Lured by sweets, raffles and a celebratory atmosphere, attendees stay to chat with CS50 students and take in their product demonstrations.
For students who are enrolled in the class, the Fair is a rite of passage and a chance to introduce their final projects – websites, digital tools and apps – to the interested masses gathered to learn about them. The common thread shared by the projects? School of Engineering and Applied Sciences (SEAS) Senior Instructor David Malan AB '99, MS '04, PhD '07 states it succinctly in course materials, "All we ask is that you build something of interest to you, that you solve an actual problem, that you impact campus, or that you change the world."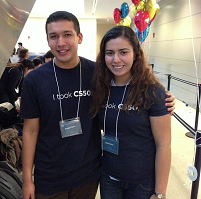 The projects are impressive, a fact recognized by alumni recruiters from Quora, Oracle, Microsoft, Google, Facebook, Dropbox, and Bridgewater – many of them also CS50 alums – who returned to the fair to recruit new talent.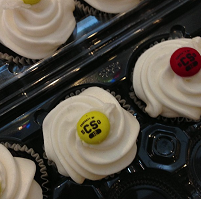 "Every time I think that CS50 has gotten as big as it possibly can, it gets that much bigger," exclaimed Matthew Chartier '12, a CS50 alum who attended the event to recruit for Microsoft, of the course's enrollment, which topped 700 this year.
They're going to need more cupcakes.