I Choose Harvard: Douglas '62 and Cynthia Crocker
Douglas '62 and Cynthia Crocker
February 15, 2013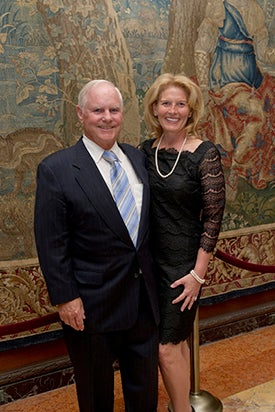 Doug Crocker '62 and his wife, Cindy, took different educational paths: He attended Boston-area private schools while she worked her way through public schools in Illinois. But they both concluded that education is the gateway to opportunity—and that helping open those gates for others is essential.
"Cindy and I are huge believers in financial aid for students," says Crocker, now semiretired from a career in real estate investing. "The foundation for my successes in business came from my education at Harvard and Milton Academy."
The couple has supported Harvard's generous financial aid program for a decade and recently augmented their giving to create a Cornerstone Scholarship. They have endowed scholarships at several other institutions, too, including Cindy's alma mater, Northern Illinois University. The Crockers have four children and live in Marion, Massachusetts, and Sanibel, Florida.
"People tend to think Harvard doesn't need their money," Crocker reflects. "But a staggering number [over 60 percent] of Harvard students get scholarship help. Having a diverse student body is critical to the University's long-term success, so my money went into a scholarship program."
The Crocker name is familiar at Harvard; among the alumni in the family are Doug's great-grandfather Alvah Crocker (1879); grandfather Alvah Crocker, Jr. (1905); father, Frederick G. Crocker '34 (for whom the football MVP trophy is named); and siblings Frederick Crocker, Jr. '59 and Prescott Crocker '64.
As an undergraduate, Doug Crocker concentrated in fine arts (he now collects) and belonged to the Owl and Hasty Pudding clubs. He relished living in Eliot House under the attentive eye of House Master and Classics scholar John H. Finley, Jr. '25, PhD '33. "He knew everybody by their first and last name, and he was able to talk about anything and everything," Crocker recalls.
Crocker says Harvard taught him how to think independently. "I'll never forget one psychology teacher. After the first exam he said, 'You got an A in regurgitation and an E in putting it into your own words.' After that humiliating experience, I learned how to convert what was in the book into my own words—which you have to do when you're running a company."
After a few years building homes (and skiing) in Vermont, Crocker spent some 40 years buying and selling properties in Boston, New York, and Chicago. His schedule precluded regular trips to Cambridge, but he attended his 25th reunion and then the 50th last May. He co-chaired the 50th Reunion Gift Committee and hosted a party with Cindy in Sanibel.
"Going to reunions is like being in a time capsule," Crocker notes. "You see someone from a distance and think, 'That's so-and-so,' and you get closer and realize it is. It's like the 25 years that have elapsed don't make a difference. He was a friend at college, and he's still a friend. It's easy to rekindle that camaraderie."
Feb 15, 2013

Since graduating from Harvard, Ab Gupta '04 has lived in five cities, launched an investment office in Mumbai, earned two advanced degrees, and served as CEO of a 200-person company. The constant during that change-filled time? His Harvard College ties. Read More

Feb 15, 2013

Herbert Bachelor '66, MBA '68 graduated from Harvard with significant debt and began saving for his children's college education. Now his daughter Jeannie Bachelor Lavine '88, MBA '92 and her husband, Jonathan Lavine MBA '92, 
are helping ease the financial burden for others. Read More

Feb 15, 2013

Harvard's financial aid program changes the lives of exceptionally talented students from all economic background and empowers them to change the world. Read More