Celebrating 10 Years of Student-Driven Sustainability Efforts
December 11, 2012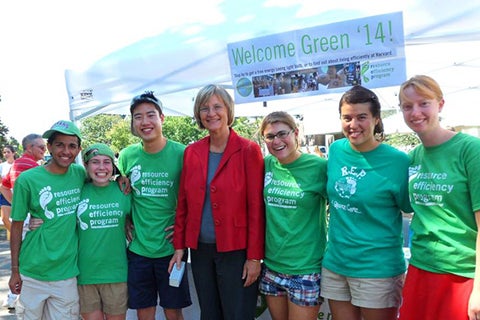 Students have always been the driving force behind Harvard's leadership on sustainability, pushing the University to establish a greenhouse gas reduction goal and launching new programs like the Harvard Community Garden. This year, one of Harvard's most successful and widely replicated sustainability programs – the Resource Efficiency Program (REP) – celebrated its 10-year anniversary of working inside the undergraduate Houses to raise environmental awareness and engage students in eco-friendly activities.
In Fall 2002, John Hsu '03, Rachelle Gould '03, and Wendy Liu '03 approached the Faculty of Arts & Sciences Office of Physical Resources, Harvard's Green Campus Initiative (now Harvard Office for Sustainability), University Operations Services, and Environmental Action Committee to advocate for the creation of Harvard's first peer-to-peer environmental education program. Their vision was to implement dorm-based ecological education programs and energy-efficiency and waste recycling measures, targeting all 6600 undergraduate students.
"We wanted to steer away from gloom and doom and didn't want to talk at students. Instead, we were striving to create a peer-to-peer program that would make people feel part of a larger social community," said Gould when contacted earlier this year and asked to reflect on the creation of REP.
The four groups pulled together resources to fund two program captains and fifteen student interns for the Houses and dorms. In its first six months of operation, REP achieved a 26% reduction in recycling rates in the dorms, which saved the FAS $50,000 in annual trash costs. The students launched new outreach campaigns including dorm-specific pledges, waste audits and the visually striking "Mt. Trashmore" where they collected and piled up a half-week's worth of trash from Harvard Yard.
A recent survey of REP alums shows that many have taken their campus sustainability efforts to heart as they moved on to their professional lives. Half of those surveyed still work on environmental issues as part of their job responsibilities. Many have remained personally involved with the environment and advocate with friends and family. And an impressive 75% felt that REP influenced their future career choices.
Today, REP has been replicated by colleges and universities throughout the world and, in partnership with the FAS Green Program and Office for Sustainability, manages a wide range of environmental campaigns in the Houses that reduce energy, increase efficiency and conserve resources. The Green Cup inter-house competition and an annual GreenToon environmental art contest are two examples of programs that engage students across a wide range of interests.
"Thanks to REP I learned a lot about how even small institutional and behavioral changes can make a huge difference in our ecological footprint," said former REP Scot Miller '07. In 2009, REP students sought to expand their involvement with incoming first year students and launched the Green '13 freshman engagement program. Now in its fourth year with Green '16 in full swing, the campaign has been highly successful, handing out over 1,200 reusable mugs annually to incoming students who attend the Freshman Green Fair and Brain Break in Annenberg Hall. REPs have also worked with their House communities to develop House-specific projects including an entryway compost system at Adams, and a reusable party kit at Leverett.
The students also work on individual projects to engage their peers. REP student Akshay Sharma's "Turn off the Lights" music video has become the Office for Sustainability's most viewed video and was shown at Harvard's annual Green Carpet Awards.
Above all, the most prevalent themes that emerged from the REP alums' survey responses was that the exposure to advocacy, interactions with housemates, as well as management and leadership experience truly prepared them for the future. Not only does REP help Harvard achieve its on-campus sustainability goals, but most importantly, it helps shape the experiences of future leaders in the private, research, government, and non-profit sectors.
"I like the idea that REP works to change the mindset of people who will go on to be leaders," said REP alum Anne Deangelo '12.
That might just be its greatest legacy.