Anything Is Possible
Harvard's Financial Aid Program Offers Limitless Opportunities
February 15, 2013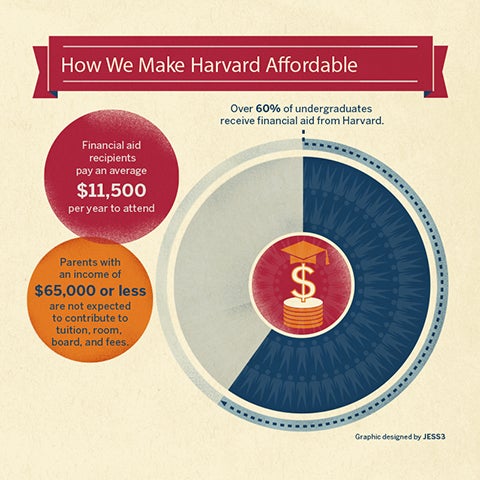 For Faculty of Arts and Sciences Dean Michael D. Smith, the Celebration of Scholarships dinner is one of the year's highlights. "These students embrace their Harvard experience with a kind of energy and passion that is nothing less than stunning," says Smith, John H. Finley, Jr. Professor of Engineering and Applied Sciences. "Scholarships change the lives of our undergraduates and empower them to change the world."
The University's financial aid program—one of the most comprehensive in the country—helps make a Harvard education affordable to exceptionally talented students from all economic backgrounds. It opens doors to knowledge, relationships, and opportunities, and steers students toward stimulating futures in every imaginable field.
While enriching the lives of individuals, need-based scholarships—which are supported by endowment and immediate-use funds—also enrich the Harvard community with a mosaic of perspectives and experiences. "Financial aid," Smith notes, "is one of the defining qualities that make this place so exciting."
Here, recent graduates Caitria O'Neill '11, Darryl Finkton '10, and Rachel Berkey '08, MBA '12 describe how Harvard scholarships changed their lives.
What a Relief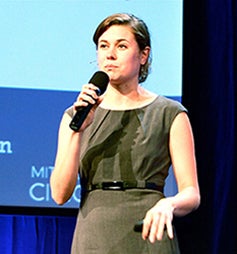 Just hours after Caitria O'Neill '11 moved home after graduation, a tornado tore through her town of Monson, Massachusetts, chewing up houses and trees and sending utility poles flying. Recognizing the chaos around them, O'Neill and her sister created a system to match eager volunteers and donations with the needs of those affected by the storm. Their effort evolved into recovers.org, which offers easy-to-use software to help communities prepare for and cope with natural disasters—including several communities hit by Hurricane Sandy last fall. "We're focusing now on preventing damage before it happens," says O'Neill, CEO of the small California-based company.
This was not O'Neill's expected path. A government concentrator from Mather House interested in post-Soviet Eastern European democratization, she was about to pursue a master's degree in Moscow when the tornado struck.
"I was content writing wonky articles; then I physically helped people," she recalls. "I've never felt more useful than when I was part of my town's response effort. And Harvard has made it possible."
The University's scholarship program, which enabled O'Neill to enroll, left her with limited debt so she could focus nearly full-time on recovers.org. She also credits her courses, the skills she honed juggling work-study jobs, her alumni connections, and her learning experiences in France, Italy, and Slovakia during the academic year and summers.
"Harvard was very good to me," O'Neill comments. "The second I have enough money to help other students attend, I plan to do that."
"Incredible Things Were Normal"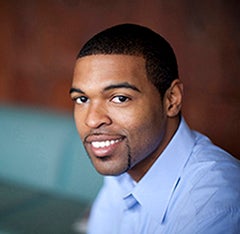 Harvard College was not on the radar for Darryl Finkton '10 until a high school coach showed him an article about the University's financial aid program. "It said, if you're qualified to get in, anybody can go," recalls Finkton, who grew up in Indianapolis with a single mom and three older siblings. "The next thing I knew, I was moving to Cambridge."
At Harvard Finkton relished being around people "who really didn't see any limitations to the things they could do. Everybody thought that incredible things were normal."
That mindset propelled Finkton and Quincy House roommate Sangu Delle '10 to launch the African Development Initiative, a nonprofit aimed at improving lives in resource-poor settings in Africa. One successful effort has involved delivering clean drinking water and toilets to the village of Agyementi, Ghana.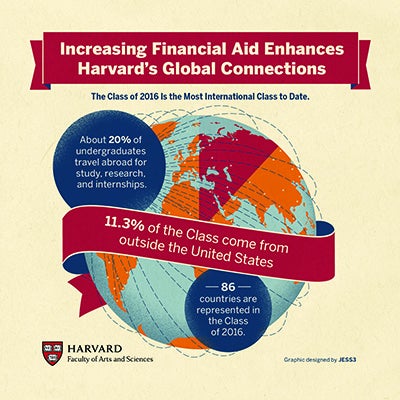 "None of it would have been possible without the professors and staff who pushed us to achieve and helped us find the resources we needed," says Finkton, a neurobiology concentrator with a secondary field in African and African American studies.
The busy Finkton also played varsity basketball, mentored kids in Boston, conducted biomedical research, and traveled to Ghana and beyond with financial help from Harvard. He later earned two master's degrees in global health sciences as a Rhodes Scholar at the University of Oxford. Now in New York, Finkton remains part-time CEO of the African Development Initiative and looks forward to a career in preventive health.
"Before college, I knew you could become a doctor or lawyer, but I had no idea of the other ways to make a difference," Finkton explains. "Harvard opened my eyes to the different opportunities to do something positive."
Problem Solver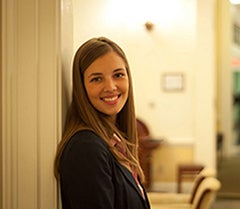 Rachel Berkey '08, MBA '12 didn't own a passport until her sophomore year in college. Now, thanks to Harvard, she has visited 30 countries through school and work, including spending four months each in Israel and Australia.
"Harvard exposed me to so many backgrounds and perspectives," says Berkey, who grew up in Grand Rapids, Michigan, and was unusual among her high school classmates in attending a secular, out-of-state college.
Berkey's father had died, her mother worked in retail, and she qualified for Harvard's program of no required parental contribution for families earning $60,000 (now $65,000) or less. "We were amazed by the package," she remembers.
"I love that every student can have the same experience, regardless of your financial background."
Berkey lived in Adams House and concentrated in psychology with a secondary field in economics. Heeding her freshman proctor's advice, she went on to Harvard Business School and then positions with The Boston Consulting Group, where she focuses on retail and consumer goods. "Consulting is a great fit because I love to solve problems and make things work better," she says.
One of Berkey's most rewarding college activities was placing calls for the Harvard College Fund. "I was so proud to ask alumni for money because I saw firsthand the difference their support made, and I wanted to share my personal thanks," she says. "Being on financial aid taught me that anything is possible, but it becomes possible through the grace and generosity of others. You don't earn anything alone." 
Feb 15, 2013

Doug Crocker '62 and his wife, Cindy, believe that education is the gateway to opportunity—and that helping open those gates is essential. Read More

Feb 15, 2013

Since graduating from Harvard, Ab Gupta '04 has lived in five cities, launched an investment office in Mumbai, earned two advanced degrees, and served as CEO of a 200-person company. The constant during that change-filled time? His Harvard College ties. Read More

Feb 15, 2013

Herbert Bachelor '66, MBA '68 graduated from Harvard with significant debt and began saving for his children's college education. Now his daughter Jeannie Bachelor Lavine '88, MBA '92 and her husband, Jonathan Lavine MBA '92, 
are helping ease the financial burden for others. Read More