Challenges After the Arab Spring: Learning from Change in the Arab Middle East
Cambridge, MA, United States
Following the uprisings and peaceful resolutions of the Arab Spring, recently the Middle East has seen acts of violent protest. What do the transformations of post-Arab Spring countries mean for Middle East and US relations? Do these changes teach us anything about our flawed political assumptions about the region?
Join Nick Burns, Professor of the Practice of Diplomacy and International Politics at the Harvard Kennedy School, for a discussion on the nature of the Arab uprisings and the worldwide implication of these political changes.
Harvard Alumni and Friends of the Harvard Community $5
Please note: Only alumni will be able to register online. If you would like to attend and are not part of the Harvard community please call 617-495-1920 to register.
This is a Past Event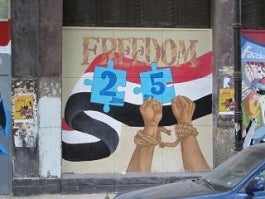 Time & Location
Nov 14, 2012
5:30pm-7:00pm
Sever Hall Room 113
Harvard Yard
Cambridge, MA 02138, United States
Contact
HAA Alumni College
HAA_Alumnieducation@Harvard.edu
617-495-1920
Attendance Policy
Open to public
Open to students
Open to alumni
Registration required
Accessibility
Wheelchair-accessible event
Sponsors